Last Updated: 11/9/12
A Conversation With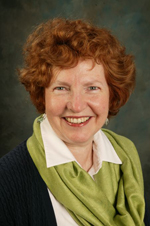 Julia Rowland, Ph.D.
Director
Office of Cancer Survivorship
Division of Cancer Control and Population Sciences
Q: Please describe the role of the Office of Cancer Survivorship (OCS) within NCI.
The NCI Office of Cancer Survivorship (OCS) was established in 1996 as a direct response to compelling and articulate advocacy from the consumer community, which requested more information about the unique and poorly understood needs of the growing population of those living long-term after cancer. The overall mission of OCS is to help improve not only the length of survival time of individuals, but equally important, to improve the quality of life of all those living with a history of cancer. OCS achieves this mission by directing and supporting research, advocating for and underwriting the training of researchers and clinicians, and participating in the development of educational materials and outreach programs designed for healthcare providers as well as cancer survivors and their caregivers.
Q: Is CAM important to the survivorship community? How so?
Historically, CAM was very much a focus of interest within the cancer community, primarily as an alternative to the few treatments for cancer, many of which had serious side effects that were often poorly controlled, and whose outcome when applied was fairly bleak for most of those diagnosed. As a result of the advances made in treatment options and in the control of their side effects, I believe cancer patients today are using therapies that are complementary, and less as an alternative, to conventional treatments. They are also talking more openly about CAM use, not only with family and friends, but also their doctors and nurses.
Beyond the active treatment phase, survivors may use CAM to help with the lingering side effects of treatments, to promote a general sense of health, or in an attempt to alter the course of their illness. In addition, some survivors turn to CAM therapies as a way to help manage other chronic health conditions, whether cancer-related or not.
Q: What do you think CAM can offer to cancer survivors?
CAM can help restore a sense of control to the individual with cancer. Patients want to be able to do something active, proactive even, for their health and well-being. An additional part of the appeal of CAM is that it feels like a 'natural' approach to healing for survivors, many of whom, after an aggressive course of cancer therapy, are leery of taking more medicines that might expose them to further medical problems. Finally, CAM use supports the desire of many cancer survivors to engage in a holistic or more integrative approach to their well-being.
Q: Does OCS have any current or upcoming projects related to CAM?
One of the areas of research we are very interested in is physical activity. Activities like tai-chi, yoga, dragon boat racing, and fly fishing have proven helpful to breast cancer survivors in their recovery process. In a recently published study funded by OCS*, researchers documented the benefits of slowly progressive weight lifting for breast cancer survivors with documented lymphedema or arm swelling. This finding challenges the usual recommendations for management of this condition.
A further area of interest to many survivors and the larger research community is the role that stress may play in causing cancer and affecting its clinical course. OCS currently supports a number of studies that examine the impact of stress management on survivors' general health, quality of life, and immune function.
Dietary supplements are also a popular topic within the survivorship community for many of the reasons noted above. We, along with OCCAM, are interested in evidence-based research to determine whether these dietary cocktails might be beneficial to survivors' health.
Lastly, our office always promotes the importance of physician-patient dialogue surrounding CAM. Physicians and nurses need to ask patients about their use of CAM, and patients need to feel free to raise this topic with their healthcare team – without fear of being dismissed or labeled as 'kooky' or 'difficult.' These conversations are especially important given how quickly information is changing about CAM therapies. Both provider and patient need to know what is safe and effective, or at a minimum, will do no harm in the course of that individual's cancer care and recovery.
*ClinicalTrials.gov Identifier: NCT00194363