Last Updated: 03/05/21
Indian Medicine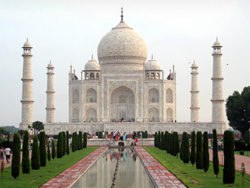 Office of Cancer Complementary and Alternative Medicine (OCCAM) Symposium/Conference & Scientific Events
Mini Symposium: Evidence-based Traditional Medicine and Healthcare System in India-Special Reference to Cancer, May 3, 2016
India has formal education and regulated practice both for modern and traditional medicine. Present healthcare and public health systems in India are predominantly based on modern medicine. The Ministry of AYUSH (Ayurveda, Yoga and Naturopathy, Unani, Siddha and Homoeopathy), government of India, serves the purpose of developing AYUSH education and research and emphasizes the importance of AYUSH within the Indian healthcare system.
Traditional practices like Ayurveda and Yoga are deep rooted in Indian culture and concurrently used for management of diseases including cancer. Systematic efforts on generating scientific evidence for safety and efficacy are underway. This symposium provided broad introduction to Indian healthcare system with a focus on cancer, and a primer on Ayurveda and Yoga highlighting their role in the management of cancer and other non-communicable diseases. Overall, the symposium presented an interesting glimpse of research initiatives and their translation in the areas of natural product drug discovery, network pharmacology, Ayurvedic biology, and personalized medicine.
The mini symposium was organized by Drs. Avrahan Rasooly and Aniruddha Ganguly, and chaired by Dr. Aniruddha Ganguly.
Mini Symposium Agenda:
Dr. Jeffrey D. White, Director, OCCAM, DCTD, NCI: Welcome
Dr. Bhushan Patwardhan (Savitribai Phule Pune University): Overview of Traditional Medicine and Healthcare in India
Dr. Namyata Pathak (AIM Swasthya): Ayurveda and Cancer
Dr. Avinash Patwardhan (George Mason University): Yoga and Cancer
Dr. Bhushan Patwardhan (Savitribai Phule Pune University): Evidence-based Traditional Medicine — Research Glimpses, research needs and areas of potential collaborations.
Discussion
Memorandum of Understanding (MOU) between USA and India (Science and Technology Agreement)
The memorandum describes a bilateral agreement between two countries. It expresses a convergence of will between USA and India, indicating an intended common line of action (http://energy.gov/sites/prod/files/US-India%20ST%20Agreement.pdf).
LOI between OCCAM-NCI and CCRAS-India
In October 2020, the Office of Cancer Complementary and Alternative Medicine (OCCAM) of the Division of Cancer Treatment and Diagnosis (DCTD) of the National Cancer Institute (NCI/NIH) signed a Letter of Intent (LOI) with the Central Council for Research on Ayurvedic Sciences (CCRAS) from India. Both participants intend for research and training collaboration activities under this LOI to be governed by the Agreement on Science and Technology Cooperation between the Government of the United States of America and the Government of the Republic of India, signed at New Delhi on September 20 and 2, 2019, ("Science and Technology Agreement", see above). All activities included under this LOI are intended to enhance potential cancer prevention, control and treatment that would benefit both countries and possibly other Low-and-Middle Income Countries (LMICs).
The collaboration will include the following areas:
Research programs in mutually identified research areas, including technical inputs for development of protocols for any collaborative research in the field of research and development in Ayurveda.
Advise and enhance collaboration of U. S. researchers with CCRAS's work related to preclinical/clinical studies.
Joint workshops, seminars, conferences, or trainings to identify key areas where research work can be intensified, including potential cooperative research and research-training programs and activities related to the field of Ayurveda and possibly other areas of integrative oncology.
Exchanges of scientists in the field of CAM and integrative oncology research, including in Ayurveda, through which the Participants expect to gain from each other's expertise.
Identification of cancer CAM research gaps and any other potential CAM research activities related to cancer and integrative oncology that may be mutually decided upon by the Participants; and
Extension of technical support by OCCAM to CCRAS in the field of CAM research related to cancer.
For more information please contact: Dr. Alejandro Salicrup, Senior Advisor for Global Health Research at the Center of Global Health & OCCAM/DCTD, National Cancer Institute, National Institutes of Health. E-mail:salicrul@mail.nih.gov
Contact for the Center for Global Health Staff Posted in India
Dr. Preetha Rajaraman: rajarama@mail.nih.gov
Contact Us
Contacts for NCI Program Directors:
Please contact the following Program Directors for questions related to the information provided in this webpage.
Dr. Avi Rasooly
(Office of Cancer Complementary and Alternative Medicine, DCTD):
rasoolya@mail.nih.gov
Dr. Aniruddha Ganguly
(Cancer Diagnosis Program, DCTD):
gangulya@mail.nih.gov
Dr. Pushpa Tandon
(Imaging-guided Intervention Branch, Cancer Imaging Program, DCTD):
tandonp@mail.nih.gov
Dr. Julia Arnold
(Translational Research Program, DCTD):
jarnold@mail.nih.gov
Dr. Min He
(Developmental Therapeutics Program, DCTD):
hem22@mail.nih.gov
Dr. Neeraja Sathyamoorthy
(Tumor Biology and Microenvironment Branch, DCB):
sathyamn@mail.nih.gov