Last Updated: 04/13/18
Indian Medicine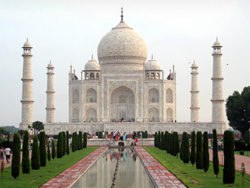 Office of Cancer Complementary and Alternative Medicine (OCCAM) Symposium/Conference & Scientific Events
Mini Symposium: Evidence-based Traditional Medicine and Healthcare System in India-Special Reference to Cancer, May 3, 2016
India has formal education and regulated practice both for modern and traditional medicine. Present healthcare and public health systems in India are predominantly based on modern medicine. The Ministry of AYUSH (Ayurveda, Yoga and Naturopathy, Unani, Siddha and Homoeopathy), government of India, serves the purpose of developing AYUSH education and research and emphasizes the importance of AYUSH within the Indian healthcare system.
Traditional practices like Ayurveda and Yoga are deep rooted in Indian culture and concurrently used for management of diseases including cancer. Systematic efforts on generating scientific evidence for safety and efficacy are underway. This symposium provided broad introduction to Indian healthcare system with a focus on cancer, and a primer on Ayurveda and Yoga highlighting their role in the management of cancer and other non-communicable diseases. Overall, the symposium presented an interesting glimpse of research initiatives and their translation in the areas of natural product drug discovery, network pharmacology, Ayurvedic biology, and personalized medicine.
The mini symposium was organized by Drs. Avrahan Rasooly and Aniruddha Ganguly, and chaired by Dr. Aniruddha Ganguly.
Mini Symposium Agenda:
Dr. Jeffrey D. White, Director, OCCAM, DCTD, NCI: Welcome
Dr. Bhushan Patwardhan (Savitribai Phule Pune University): Overview of Traditional Medicine and Healthcare in India
Dr. Namyata Pathak (AIM Swasthya): Ayurveda and Cancer
Dr. Avinash Patwardhan (George Mason University): Yoga and Cancer
Dr. Bhushan Patwardhan (Savitribai Phule Pune University): Evidence-based Traditional Medicine — Research Glimpses, research needs and areas of potential collaborations.
Discussion
Acupuncture for Cancer Symptom Management, June 16-17, 2016
(https://cam.cancer.gov/news_and_events/conferences.htm)
Drs. Farah Zia (Chair) and Oluwadamilola Olaku (Co-Chair) of OCCAM conceptualized and organized this seminal meeting convened on the NIH Campus, Natcher Auditorium, June 16-17, 2016. It was built on the foundation laid by the 1997 NIH Consensus Development Conference and the 2007 Society for Acupuncture Research (SAR) International Conference. Invited speakers included 19 scholars from the United States, Europe, and China, with expertise in acupuncture and cancer research. Topics included NCI's portfolio on acupuncture, patient needs, safety issues, clinical trial methodology and statistical considerations, cost-effectiveness and reimbursement issues, current state of the science of local and central mechanisms, and gaps in basic and clinical research. The conference affirmed the potential use of acupuncture in the management of cancer symptoms, in which the experts urged further integration into oncology care, and called for establishing a dedicated field for "oncology acupuncture." A white paper summary will be published in an upcoming special edition monograph of the Journal of the National Cancer Institute (JNCI).
Memorandum of Understanding (MOU) between USA and India
The memorandum describes a bilateral agreement between two countries. It expresses a convergence of will between USA and India, indicating an intended common line of action (http://energy.gov/sites/prod/files/US-India%20ST%20Agreement.pdf).
Contact for the Center for Global Health Staff Posted in India
Dr. Preetha Rajaraman: rajarama@mail.nih.gov
Contact Us
Contacts for NCI Program Directors:
Please contact the following Program Directors for questions related to the information provided in this webpage.
Dr. Avi Rasooly
(Office of Cancer Complementary and Alternative Medicine, DCTD):
rasoolya@mail.nih.gov
Dr. Aniruddha Ganguly
(Cancer Diagnosis Program, DCTD):
gangulya@mail.nih.gov
Dr. Pushpa Tandon
(Imaging-guided Intervention Branch, Cancer Imaging Program, DCTD):
tandonp@mail.nih.gov
Dr. Julia Arnold
(Translational Research Program, DCTD):
jarnold@mail.nih.gov
Dr. Min He
(Developmental Therapeutics Program, DCTD):
hem22@mail.nih.gov
Dr. Neeraja Sathyamoorthy
(Tumor Biology and Microenvironment Branch, DCB):
sathyamn@mail.nih.gov