Last Updated: 04/23/21
Research Resources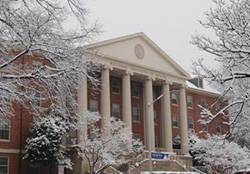 NIH Research Portfolio Online Reporting Tools (RePORT)
The RePORT (Research Portfolio Online Reporting Tools) website provides access to a variety of reporting tools, reports, data, and analyses of NIH research activities. One of the tools available on the RePORT site is the RePORTER (RePORT Expenditures and Results) module. RePORTER is an electronic tool that allows users to search a repository of NIH-funded research projects and access publications and patents resulting from NIH funding.
Link to RePORT: (https://projectreporter.nih.gov/reporter.cfm)
NIH Grants Resources & Sample Grant Applications
Grants & Funding:
(http://grants.nih.gov/grants/oer.htm)
This is NIH's central resource for grants and funding information.
Grant Activity Codes:
(http://grants.nih.gov/grants/funding/ac_search_results.htm)
The link provides a description of different funding mechanisms to aid understanding about the most appropriate type of grant mechanism for a given type of research.
Sample Grant Applications and Summary Statements:
(https://www.niaid.nih.gov/grants-contracts/sample-applications)
National Cancer Institute (NCI) Resources
NCI Research Resources:
(https://resresources.nci.nih.gov/)
This centralized listing of scientific tools, reagents, services, and information developed by the NCI is provided as part of NCI's ongoing commitment to cancer investigators to enable and expedite their research.
Products and services included hereare available to the research community; accessible without extensive negotiations or intellectual property issues, and at a minimal cost.
NCI-60 Human Cell Lines:
(https://dtp.cancer.gov/discovery_development/nci-60/cell_list.htm)
This is a list of the 60 human cancer cell lines used for screening, and maintained at NCI-Frederick. Additional lines evaluated for use in the screen and currently available are listed separately.
NCI-60 Human Tumor Cell Lines Screening:
(https://dtp.cancer.gov/discovery_development/nci-60/)
The NCI-60 Human Tumor Cell Lines Screen has served the global cancer research community for >20 years. The screen was implemented in fully operational form in 1990 and utilizes 60 different human tumor cell lines to identify and characterize novel compounds with growth inhibition or killing of tumor cell lines. It is designed to screen up to 3,000 small molecules (synthetic or purified natural products) per year for potential anticancer activity. The operation of this screen utilizes 60 different human tumor cell lines, representing leukemia, melanoma and cancers of the lung, colon, brain, ovary, breast, prostate, and kidney cancers.
NCI-Frederick National Laboratory for Cancer Research:
(https://frederick.cancer.gov/)
The Frederick National Laboratory for Cancer Research (FNLCR) is a federal national laboratory operated by Leidos Biomedical Research, Inc. under sponsorship of the National Cancer Institute, part of the U.S. National Institutes of Health. The Frederick National Lab collaborates with public and private partners to address urgent problems in biomedical research to discover, to innovate, and to improve human health.
Developmental Therapeutics (DTP) Program:
The NCI Development Therapeutics Program (DTP) of the Division of Cancer Treatment and Diagnosis (DCTD), National Cancer Institute (NCI) provides services and resources to the academic and private-sector research communities worldwide to facilitate the discovery and development of new cancer therapeutic agents. Since its inception in 1955 by Congress, DTP has supported the development of more than 40 US-licensed anti-cancer agents through extensive collaborations with academic, pharmaceutical and biotechnology industries, including Paclitaxel, Romidepsin, Eribulin, Sipuleucel-T, and Dinutuximab (Ch14.18).
Today, most of DTP's drug discovery and development services are available for academic and private researchers through applying for NCI Experimental Therapeutic program (NExT). Under this new framework, DTP continues to help academic and private sectors to overcome financial and technical barriers, particularly through supporting high-risk treatments for rare cancers, and facilitate the movement of promising therapeutic agents from scientists' bench side to patients' bed side.
NCI Experimental Therapeutics Program (NExT):
The mission of the NExT Program is to advance clinical practice and bring improved therapies to patients with cancer by supporting the most promising new drug discovery and development projects. The NExT Program is not a grant mechanism; applications with exceptional science cannot be accepted without a clear path to the clinic or potential benefit to patients. Awardees will not necessarily receive direct funding; rather, the NCI may allocate various contracts and grant resources toward the implementation and development of submitted projects. The NCI will partner with successful applicants to facilitate the milestone-driven progression of new anticancer drugs (small molecules, biologics) and imaging agents towards clinical evaluation and registration.
National Center for Informatics Program (NCIP) Hub
National Center for Informatics Program (NCIP):
(https://cbiit.nci.nih.gov/ncip/ncip-home)
The NCIP Hub is sponsored by the National Cancer Informatics Program with a mission to building scientific communities and making your research useful to others.
The NCIP Hub is a site for community research and collaboration in cancer research and informatics. Users can share resources, host online communities, and use collaboration tools. These resources are available to visitors from all over the world. The NCIP hub is supported by the National Cancer Institute, National Institutes of Health to foster collective innovation and democratize access to data, tools and standards across the cancer research community.
International Research Support
Fogarty International Center (FIC): Advancing Science for Global Health:
(http://www.fic.nih.gov/Pages/Default.aspx)
The FIC is dedicated to advancing the mission of the National Institutes of Health (NIH) by supporting and facilitating global health research conducted by U.S. and international investigators, building partnerships between health research institutions in the U.S. and abroad, and training the next generation of scientists to address global health needs.
Center for Global Health (CGH):
(http://www.cancer.gov/about-nci/organization/cgh)
The National Cancer Institute (NCI) established the Center for Global Health (CGH) in 2011 to help reduce the global burden of cancer. CGH develops initiatives and collaborates with other NCI divisions, NCI-designated cancer centers, and countries to support cancer control planning build capacity, and support cancer research and cancer research networks in low- and middle-income countries (LMICs).
Global Cancer Project Map (GCPM) of the CGH:
(http://gcpm.globalonc.org/map/?limit=10)
This is developed to promote collaboration, knowledge sharing, and identification of gaps in cancer research and cancer control. The GCPM highlights a variety of cancer projects, from basic research to population-based research to capacity building and training projects, and users are able to search for projects by a variety of features as well as overlay key cancer statistics on project maps.
Clinical Trials
ClinicalTrials.gov is a registry and results database of publicly and privately supported clinical studies of human participants conducted around the world. Learn more about Clinical Studies and about this site, including relevant history, policies, and laws. (https://clinicaltrials.gov/)
NIH Clinical Trials & Related Information
Search for NIH Clinical Research Studies:
(http://clinicalstudies.info.nih.gov/)
Contact Us
Contacts for NCI Program Directors:
Please contact the following Program Directors for questions related to the information provided in this webpage.
Dr. Avi Rasooly
(Office of Cancer Complementary and Alternative Medicine, DCTD):
rasoolya@mail.nih.gov
Dr. Libin Jia
(Office of Cancer Complementary and Alternative Medicine, DCTD):
libinj@mail.nih.gov
Dr. Dan Xi
(Research Development and Support Program, Office of Cancer Complementary and Alternative Medicine, DCTD):
xida@mail.nih.gov