Last Updated: 11/09/12
Director's Message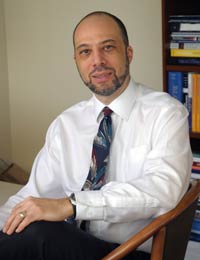 Welcome to the National Cancer Institute's (NCI) web site for complementary and alternative medicine (CAM) and cancer. The site is developed by the NCI Office of Cancer Complementary and Alternative Medicine (OCCAM) as NCI's information hub on CAM issues for health care practitioners, medical researchers, cancer patients and their families, and the general public.
The site provides a wealth of information about NCI's CAM research portfolio, study results, and other news to help you stay current about the latest science-based knowledge on CAM approaches for preventing and treating cancer, as well as for easing symptoms and side effects of the disease and its medical treatments.
As a health care practitioner or patient, you will find useful information on CAM approaches for cancer under the Health Information tab. For example, you can read evidence-based summaries – called Physician Data Query (PDQ®) summaries – on specific CAM therapies, such as acupuncture and coenzyme Q10. There is also online access to CAM Clinical Trials from NCI's PDQ® Database. This easy-to-use search table allows users to view active CAM clinical trials by either cancer type or an associated symptom. Our site also provides information about the NCI Best Case Series Protocol, which uses rigorous scientific methods to evaluate the use of complementary and alternative medicine by healthcare practitioners worldwide for the treatment of cancer.
If you are a scientist interested in doing cancer CAM research, this site offers a comprehensive Research section, which includes information about active funding opportunities, conferences and workshops, tips on how to write a grant in cancer CAM, and unique tools to assist you with connecting with other researchers in the field.
Finally, the News and Events section of the site will help you stay up-to-date on CAM programs and research news at NCI. You can also sign up to receive automatic e-mail alerts with links to the latest information or learn about upcoming lectures.
We invite you to review OCCAM's web site to check out these many resources and tools. Your input is always welcome on how we can improve the site's usefulness. We hope that it will help generate increased dialogue – especially between patients and their health care professionals – about the appropriate uses of CAM, in conjunction with conventional medicine.
Thank you,

Jeffrey D. White, M.D.
Director
Office of Cancer Complementary and Alternative Medicine
Division of Cancer Treatment and Diagnosis
National Cancer Institute