Last Updated: 11/9/12
A Conversation with: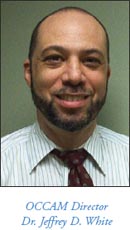 OCCAM Director, Jeffrey D. White, M.D.
Would you briefly describe your educational and professional background?
I have a bachelors of science in Applied and Engineering Physics from Cornell University, and my M.D. is from Howard University. My internal medicine, hematology, and medical oncology training was all done at the Washington Hospital Center here in D.C., and I am board certified in Internal Medicine and Medical Oncology. I came to NCI in 1990 as a Medical Staff Fellow in the Metabolism Branch. There I was involved in pre-clinical and clinical Immunology research with a focus on monoclonal antibody therapies for leukemias and lymphomas, predominantly adult T-cell leukemia/lymphoma. In 1997, I became the director of the Branch's Clinical Trials and Clinical Care Program.
Since you have a conventional medicine background, how did you become involved in CAM? Did you have an interest in this area?
I developed a personal interest in nutrition as an undergraduate. I began reading lay nutrition literature, which often addresses CAM issues, as well as some nutrition research findings. My interest in this area eventually led me into the field of medicine. Throughout the early years of my career, I was not able to find an outlet for these interests. However, in 1992, I noticed the establishment of the NIH's Office of Alternative Medicine (OAM), now NCCIH, and got to know its first interim director, Dr. Stephen Groft. From 1995 to 1998, I was a consultant on oncology research issues to Dr. Wayne Jonas, then director of OAM. Then, in the summer of 1998, Dr. Robert Wittes, who then was NCI's Deputy Director for Extramural Science, began talking with me about the Institute's need for a more focused activity in CAM, and together, we conceptualized OCCAM. I was appointed as the director of this office and have been serving in this position since its establishment.
What are OCCAM's mission and operating philosophy?
This office was established within NCI's Office of the Director to augment the activities of the different divisions at NCI that were already supporting CAM research. Our mission is to promote and support research of CAM modalities with respect to the prevention; diagnosis; and treatment of cancer, cancer-related symptoms, and side effects of conventional treatment. We are also charged with coordinating NCI's CAM research and information activities, as well as NCI's interactions with other governmental and non-governmental organizations on CAM cancer issues. In addition, we provide an interface for the Institute with healthcare practitioners and researchers regarding CAM cancer issues.
Our philosophy is to assist in the growth of CAM research within NCI by increasing the capacity of the various relevant programs to support that research and keep it integrated throughout NCI. We feel that much of CAM research relates very closely to certain conventional areas of research-the broad ones being nutrition, natural products, and psychology/behavioral medicine. These topics are represented in many programs within NCI, and so NCI's CAM portfolio is distributed throughout those programs.
Rather than segregate this research by pulling all grants categorized as CAM research together into one portfolio in any one office, we think the research will best flourish when it is being managed by people with the expertise in the specific cancer activities and science areas that I mentioned. OCCAM can be supportive of the growth of this research by adding the expertise in helping investigators look at some of these challenging areas. We are also working to attract more experienced investigators to either take up research in this area or to contribute their knowledge in important ways such as through methodology working groups.
What CAM topics are most interesting to NCI?
NCI is interested in the full spectrum of CAM therapies. We are looking at the field as potentially having many scientific opportunities rather than assuming that those opportunities are in any one particular area. So far, we have focused on being responsive to the research community's interests by providing support mechanisms that are open to a wide range of cancer CAM research topics. The majority of what NCI funds in CAM is from investigator-initiated research. One of OCCAM's responsibilities is to identify and explore areas within cancer and CAM that might warrant specific initiatives. This is an area that we hope to be exploring more in the coming years.
How does OCCAM collaborate with other NCI offices?
One example is our work with the Office of Centers, Training and Resources (OCTR), specifically with its Cancer Centers Branch. The first NCI-sponsored CAM research initiative was started in Fiscal Year 2001 and involved the solicitation and competitive review of applications from NCI-sponsored cancer centers for supplemental funding. The supplemental funding was to be used to establish CAM research components within these centers. We also collaborated with NCCIH on this project and were able to fund six of these supplements at centers around the country. Each of these centers was funded for three years at up to $400,000 per year. Goals for the centers included obtaining pilot project data that could then be used to generate R01 applications, increasing opportunities for collaboration between cancer center investigators and CAM practitioners, and finally, establishing foci of cancer CAM activity that could develop into a continuing program.
What would you like to see more of in the area of CAM?
One of the good things about this field is that there is a lot to do in it. I think there is need for more of everything really-more research, more high-quality information resources, more dialog between the conventional and CAM practice and cancer research communities. So, all of those things need to be addressed in one way or another.
Where do you see OCCAM in five years?
OCCAM has grown substantially since it was established in the fall of 1998. The scope of our activities has expanded, as has our ability to generate new initiatives, establish new collaborations with members of the research and practitioner communities, and expand NCI's role in CAM research and information.
We are now very involved in cataloging and analyzing what the Institute has accomplished in CAM. To this, we will add information that we are gathering about ongoing CAM practices and other cancer CAM research. Then, we will be better able to define areas of opportunity, tackle challenges, and begin developing activities and initiatives specifically designed to address these issues. We will design these projects in collaboration with the relevant programs within NCI, thereby integrating our activities with the evolving priorities of the Institute. We will aggressively look for funding partners within and outside the government for the new funding initiatives related to these activities.
We have also started some outreach activities to learn better how to build effective collaborations between cancer researchers and CAM practitioners. As this work matures, we will be in a better position to support the important and necessary dialog between these communities.
One more area where we are planning increased activities in the coming years is in providing the conventional healthcare practitioners with good quality information on CAM approaches, packaged in a way that makes it useful to their daily practice and decision making.
What is OCCAM's role in training researchers, CAM practitioners, and people working on cancer information programs?
We have recently begun hosting Cancer Research Training Award (CRTA) interns within the office. Our goal is to have two pre-doctoral interns here to learn about the grant process, explore approaches to building cancer CAM research, and help support investigators. In addition, this internship will give them experience in generating information resources and establishing research collaborations between CAM groups and conventional research groups. I think these experiences are relevant to people who want to be involved in cancer research activities, regardless of the setting or their level of interest in CAM. Each intern will also work on a literature review project, mentored by a senior staff member, which will be submitted for publication.
We are also announcing an opening for a post-doctoral fellow who will work with me on some large scale literature reviews and have many of the same training experiences as the CRTA interns. The fellow will also be involved in the NCI Best Case Series Program.
Although we do not train practitioners to practice CAM, our Practice Assessment Program is involved in dialoging with them about gathering data, the value of independent review, and evaluation of their clinical observations. Also, through our Communications and Outreach Program, we contribute to the development of information resources about CAM practices commonly used by cancer patients. This information provides practitioners with an assessment of the evidence pertaining to these therapies. We also participate in NCI's Health Communications Internship Program.