Last Updated: 7/7/10
Research Highlights
Mind-Body Approach Studied to Ease Hot Flashes in Cancer
Menopausal hot flashes, whether induced by breast cancer treatment, surgery, or older age, can cause stress, sleep disturbances, and otherwise negatively affect the quality of life for many women. The current medications and hormone therapies used to alleviate hot flashes are sometimes not effective, have side effects, or may not be a medically appropriate option for some survivors. This has led to an increase in research of new interventions for hot flashes.
NCI is funding a pilot study* looking at a mind-body intervention involving hypnosis combined with a low-dose antidepressant to treat hot flashes. "We've done research for quite awhile on pharmacologic agents for hot flashes," noted co-principal investigator (PI) Debra Barton, R.N., Ph.D., FAAN, associate professor of oncology at the Mayo Clinic. "Many of the things that work for hot flashes that are non-hormonal happen to be antidepressants that affect serotonin," known as selective serotonin reuptake inhibitors or serotonin norepinephrine reuptake inhibitors (SNRIs).
However, side effects from the typical doses of antidepressants can lessen their value and appeal to cancer patients. Previous studies have shown these agents reduce hot flashes by only about 50%-60% for around half the women who try them.
NCI has funded previous research, which demonstrated beneficial effects on hot flashes in breast cancer patients using only hypnotherapy. One of the researchers studying hypnotherapy – Gary Elkins, Ph.D., of Baylor University – is supervising the hypnosis in the current pilot study as co-PI with Dr. Barton.
"In my career in nursing and research, I've come to really believe in the mind-body connection," Dr. Barton stated. "It makes sense to me to approach symptom management from a multi-modal perspective. What I'm hoping is we can use tiny doses of drug, just enough to do what needs to be done with the serotonin without side effects. Hypnosis could possibly enhance the drug effect and achieve greater control of hot flashes."
Dr. Barton and her colleagues have begun the pilot study, which will enroll 100 women. To be eligible for the study, the women must be currently healthy, experiencing hot flashes and have a history of breast cancer, have naturally induced menopause, or surgically induced menopause. The women will be randomly assigned into four treatment groups: 1) hypnosis plus the SNRI venlafaxine ER (75 mg); 2) control (placebo) hypnosis technique using a "white noise" CD plus venlafaxine ER; 3) hypnosis plus a placebo drug; or 4) control hypnosis technique plus placebo drug.
Individuals in the hypnosis arms of the study will initially have four weekly one-on-one sessions "where we introduce them to hypnosis," Dr. Barton said. "We do an induction and then start with two standard cooling suggestions: either a lake of cool water or snow on the mountain tops. From those suggestions, the women individualize to whatever is a good image for them so they can experience coolness. By the third session, we begin to teach them self-hypnosis."
After the training sessions, the women are given a hypnosis CD to use at home. "We ask them to listen to the CD at least four times a week, preferably every day," she noted. The control groups have the same number of one-on-one sessions with a therapist and also listen to a "white noise" CD at home. "For these individuals, we ask them to just think about their hot flashes in any way that could be helpful for them," Dr. Barton added.
If the pilot study demonstrates good results, "we're planning to move ahead with a larger follow-up clinical trial," she said. "The goal is to be able to teach the self-hypnosis technique in just a couple of sessions and eventually have most of it delivered through MP3-type devices so that the intervention can be easily disseminated." Dr. Barton hopes the mind-body intervention will reduce hot flashes by at least 70%-80%.
Estrogen treatments are around 80%-90% effective in reducing hot flashes. We don't currently have any other treatments for hot flashes that are that good."
Researchers Studying Dietary Combination
in Breast Cancer
When Rafat Ali Siddiqui, Ph.D., was growing up in Karachi, Pakistan, he had no idea that one day his work as a cancer researcher in the United States would involve tumeric, a botanical staple of the diet and culture in his native country and south Asia. Curcumin is the active ingredient in tumeric and used in many curry dishes.
At his lab at the Methodist Research Institute at the Indiana University School of Medicine in Indianapolis, Dr. Siddiqui is testing the combination of curcumin and docosahexaenoic acid (DHA) - the most unsaturated omega-3 fatty acid found in nature. Many potential health benefits have been associated with increased DHA in the diet and recent laboratory research also has demonstrated anti-cancer effects. Both curcumin and DHA have shown activity against cancer cells and tumors in laboratory cell experiments and animal models.
The use of curcumin as a therapeutic in humans has one potential problem; curcumin is not well-absorbed when ingested alone. Curcumin does not accumulate in significant quantities in most human tissues, and the same is true of DHA (brain and eye cells are exceptions). As a result, their potential anti-cancer effects may be limited by basic human biology. The doses used in many of the promising lab experiments might not be achievable in humans.
"We think we may have a solution," said Dr. Siddiqui. "We might be able to achieve the same effects with much less material if the molecular events from the curcumin and DHA actually influence each other."
NCI is supporting his research to demonstrate the synergistic effect of curcumin and DHA in breast cancer.* Early results from Dr. Siddiqui's lab suggest that curcumin and DHA affect the p21 gene, a molecular pathway known to be important in apoptosis – the programmed death of the body's cells, which can go awry in cancer. Curcumin and DHA affect p21 gene expression in different ways and using them in combination may have a larger effect than using either ingredient alone.
"We are starting to identify the specific genes that are most affected by the synergy between curcumin and DHA," Dr. Siddiqui explained. Using microarray analysis in a breast cancer cell line, his research team found 19 genes that responded at least twice as strongly when DHA was added to curcumin. Future work will delve more deeply into the molecular interactions that may be driven by these genes in this particular setting.
Dr. Siddiqui said it is too early to tell whether these molecular events will apply equally, or at all, to cancer prevention as well as to cancer treatment. While his current research targets actual cancer cells in the lab and in rodents, it may turn out that the curcumin-DHA combination also prevents potentially cancerous cells from transforming into cancer cells. If that preventive effect is demonstrated, this dietary combination could have a significant impact, particularly if, as Dr. Siddiqui suggests, "People may be more likely to change their diet than to take a drug to prevent cancer."
Acupuncture Reduces Joint Pain in Some Women
with Breast Cancer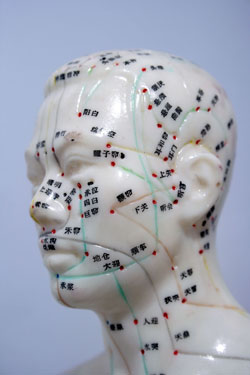 In a small randomized clinical trial, breast cancer patients experiencing joint pain and stiffness from aromatase inhibitor (AI) treatment reported an improvement in pain from acupuncture. Eighty percent of women receiving acupuncture reported at least a 2-point improvement on a 10-point pain scale, compared with 22 percent of women who received a sham treatment. These results were published January 25 in the Journal of Clinical Oncology.
Researchers led by Katherine D. Crew, M.D., M.S., of Columbia University enrolled 51 women in the trial, 43 of who were randomly assigned and 38 of who completed the treatment. Scheduling difficulties accounted for most of the women who enrolled but did not begin or finish treatment.
All of the women were blinded to their treatment assignment, which consisted of either 12 acupuncture sessions or 12 sham treatments (in which needles were lightly inserted into the body at points thought to have no effect on pain) over the course of 6 weeks. The researchers used three different scales to measure changes in joint pain, stiffness, and knee and hand function.
At the beginning of the study, women in the acupuncture group reported a mean worst pain score of 6.7 (on a scale from 1 to 10), compared with a mean score of 5.6 in women in the sham group. After treatment, women in the acupuncture group reported a mean worst pain score of 3.0, compared to 5.5 in women in the sham group. These numbers corresponded to a 50 percent improvement in pain scores for the acupuncture group.
"To our knowledge," concluded the authors, "this report is the first randomized, placebo-controlled trial establishing the use of an intervention to control AI-related joint symptoms, which should be confirmed in a larger randomized trial."
For more information, visit http://www.ncbi.nlm.nih.gov/pubmed/20100963.