Last Updated: 1/14/11
CAM Information
NCI CAM Fact Sheets Page Views Statistics —
Fiscal Year 2009
NCI offers evidence-based, easily understandable facts on a variety of topics for the public. There are ten cancer and CAM fact sheets available at http://www.cancer.gov/cancertopics/factsheet. Each month NCI records the number of page views for these fact sheets. At the end of the Fiscal Year (FY), the monthly numbers are added up to calculate total page views for the year for each fact sheet and for all ten. The chart to the right list the statistics for the fact sheets page views for FY 2009. The sheets are available for download free of charge to the public and are an integral part of cancer education at NCI.
To download the fact sheets visit: http://www.cancer.gov/cancertopics/factsheet.
| Fact Sheet Title | Total Views |
| --- | --- |
| Antioxidants and Cancer Prevention: Fact Sheet | 71,513 |
| Calcium and Cancer Prevention: Strengths and Limits of the Evidence | 3,622 |
| Garlic and Cancer Prevention: Questions and Answers | 14,732 |
| Physical Activity and Cancer: Fact Sheet | 9,166 |
| Questions and Answers About Beta Carotene Chemoprevention Trials | 2,736 |
| Red Wine and Cancer Prevention: Fact Sheet | 18,769 |
| Selenium and Vitamin E Cancer Prevention Trial (SELECT): Questions and Answers | 1,885 |
| Tea and Cancer Prevention: Fact Sheet | 11,853 |
| Vitamin D and Cancer Prevention: Strengths and Limits of the Evidence (New) | 81 |
| Complementary and Alternative Medicine in Cancer Treatment:Questions and Answers | 24,353 |
| All | 158,710 |
New Fact Sheet on the Status of Credentialing CAM Providers
While most consumers may be familiar with professional licensing and credentialing for conventional medicine (e.g. Medical doctors, nurses), credentialing for CAM providers is not as well understood. The National Center for Complementary and Alternative Medicine (NCCIH) has created a new fact sheet on the status of credentialing CAM providers in the United States to help consumers understand CAM education, training, regulation, and licensing. The fact sheet provides an overview of each of these areas as well as specific information about state licensure for a few selected types of CAM providers.
View this fact sheet on NCCIH's Web site: http://nccam.nih.gov/health/decisions/credentialing.htm.
NCCIH Clinical Digest: A New Monthly E-Newsletter About CAM
NCCIH published their first issue of NCCIH Clinical Digest in October, offering readers a new monthly e-newsletter containing evidence-based information on CAM. The Digest will offer clinical guidelines, scientific literature searches, summaries of NCCIH-funded research, and fact sheets for patients. The first issue focused on cancer and CAM. To read the first issue and subscribe to the NCCIH Clinical Digest, visit:. http://nccam.nih.gov/health/providers/digest/cancer.htm.
NCI Launches Cancer CAM Portal Web Site on Cancer.gov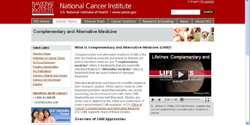 NCI has made it easier for individuals to find the latest evidence-based information on cancer CAM research and programs with the recent launch of a "portal" web site on NCI's Cancer.gov. The web site is designed to be user-friendly and organizes and consolidates links to information about CAM on Cancer.gov, including information from OCCAM's web site, NCI's PDQ database, the NCI Cancer Bulletin newsletter, and the NIH National Center for Complementary and Alternative Medicine (NCCIH).
The site, which was developed in consultation with OCCAM, is found at http://www.cancer.gov/cancertopics/cam. The home page includes a video introduction by OCCAM Director Dr. Jeffrey White about the use of CAM in cancer. The web site organizes cancer CAM information into five sections: Alternative Medical Systems, Mind-Body Body Methods, Nutritional Methods, Pharmacologic and Biologic Treatments, and CAM News and Resources.
For example, under the Alternative Medical Systems section, users can find brief descriptions and links to the latest information about acupuncture, Ayurvedic medicine (India), homeopathy, naturopathy, and Traditional Chinese Medicine. Each CAM section also includes links to the OCCAM and NCCIH home pages. NCI web editors will be continually updating the CAM site as new information and articles become available.
NCI on Facebook; Another Way to Learn About CAM
Now you can connect with NCI on Facebook to receive the latest news, research updates, videos, and stories on a host of cancer topics. NCI launched its official Facebook page in July as another way to connect with and disseminate information to the public. NCI is no stranger to new media, already having a presence on Twitter and YouTube.
With over a thousand people already signed on as "fans" of the page, NCI hopes to engage its Facebook community and solicit feedback while also allowing users to share personal stories. The page will also serve as a place to learn more about different cancer topics like complementary and alternative medicine (CAM). CAM has already been featured on the page, directing fans to many resources available on the topic.
Visit NCI's Facebook page and become a fan: http://www.facebook.com/cancer.gov.
Acupuncture and Persistent Hiccups in Patients with Cancer
Acupuncture may be a viable treatment for persistent hiccups in patients with cancer according to new case series research from the NIH Clinical Center and the NCI's Center for Cancer Research. In the published article titled: "Acupuncture treatment for persistent hiccups in patients with cancer" sixteen male study subjects with cancer and persistent hiccups were treated with one to three acupuncture sessions over a one to seven day period. Thirteen patients experienced complete remission, and the remaining three experienced decreased hiccup severity. This form of CAM treatment may prove beneficial to those suffering from recurrent, persistent hiccups and wishing to alleviate discomfort. For more information please refer to the original study at http://www.ncbi.nlm.nih.gov/pubmed/20575702.
Traditional Chinese Medicine Reduces Chemotherapy Induced Side Effects
NCI-supported research from Yale University has studied the effects of an ancient four-herb Chinese Medicine formula called PHY906. PHY906 is derived from a Chinese canonical medicine which originated 1800 years ago for the treatment of different gastrointestinal symptoms including diarrhea, nausea and vomiting. Researchers and clinicians are constantly searching for ways to reduce the side effects of chemotherapy and this research attempts to use PHY 906 as an adjuvant to chemotherapy drugs (Irinotecan, 5-fluorouracil and leucovorin) for treating colon or rectal carcinoma. Results for the murine ( mouse) model study showed that PHY 906 decreased animal weight loss caused by irinotecan, promoted intestinal recovery from damage caused by irinotecan and several other outcomes. For further details please refer to the published article in Science Translational Medicine http://www.ncbi.nlm.nih.gov/pubmed/20720216 .
Sign-up for OCCAM's Listserv
Stay up-to-date on the latest cancer CAM news at NCI with OCCAM's listserv, OCCAM Announcements. As a listserv subscriber, you will receive a monthly email about upcoming workshops and lectures, new funding opportunities, publications, and other resources. To subscribe, simply visit OCCAM's Web site: