Last Updated: 11/9/12
Research Highlights
Ginger Treatment For Cancer-Related Nausea and Vomiting
Reprinted from the NCI Cancer Bulletin, May 24, 2005 http://www.cancer.gov/ncicancerbulletin/NCI_Cancer_Bulletin_052405/page8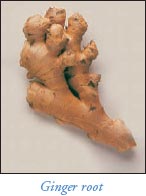 Nausea and vomiting are among the most distressing and feared side effects of cancer and cancer treatment. Beyond being unpleasant, the nausea and vomiting associated with cancer and its treatment can lead to serious and life-threatening complications, such as nutritional depletion, metabolic imbalance, esophageal damage, expulsion of oral chemotherapy agents, and withdrawal from potentially curative treatment. Thus, effective treatment for nausea and vomiting is critical to the care of cancer patients.
In this trial, researchers are testing the ability of two different doses (lower vs. higher) of the herb ginger to treat delayed nausea and vomiting associated with chemotherapy. Ginger is believed to affect receptors in the digestive tract for the neurotransmitter serotonin. This action is similar to conventional antinausea drugs.
"Ginger has been shown to be effective in a number of clinical trials against nausea and vomiting associated with motion sickness, pregnancy, and postoperative recovery," said Dr. Zick. "With this trial, we hope to determine its efficacy and safety for chemotherapy-induced nausea and vomiting.
"We hope ginger will be effective for patients who continue to experience delayed nausea and vomiting despite treatment with other antinausea drugs," Dr. Zick added.
Researchers seek to enroll 180 cancer patients aged 18 or older who are undergoing chemotherapy and have experiences of nausea or vomiting during or following a previous treatment cycle.
For more information on CAM clinical trials, visit http://cam.cancer.gov/clinical_trials/default.htm or call the NCI's Cancer Information Service at 1-800-4-CANCER (1-800-422-6237).