Last Updated: 11/9/12
Fall 2009, Vol. 4 Issue 2

NCI Botanicals Workshop Focuses on Research Challenges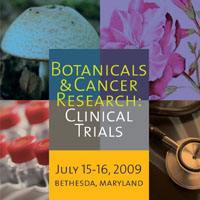 Conducting a successful Phase III clinical trial is a critical research benchmark for any new cancer treatment. Reaching that goal is daunting for all potential therapies, but it is especially so for botanical compounds. Botanical compounds are complex natural substances harvested from places such as rainforests, seas, and countries all over the world. This summer, on the National Institutes of Health (NIH) campus, more than 100 conventional researchers, experienced complementary and alternative medicine (CAM) researchers, policymakers, and experts attended a workshop designed to tackle the topic of botanicals cancer clinical research head-on.
"We wanted these discussions to be real and pragmatic," said Jeffrey D. White, M.D., director of the NCI Office of Cancer Complementary and Alternative Medicine (OCCAM) within the Division of Cancer Treatment and Diagnosis. "NCI is interested in the full spectrum of CAM activities (prevention, diagnosis, nutrition, etc.), but the search for botanicals to actively treat cancer is an area of special focus."
From the lively discussions during the July 15-16, 2009 workshop, a number of ideas emerged about how to establish an effective and organized clinical trial research infrastructure in the United States. The image of a pathway was used by some at the workshop as a way to describe how a botanical could move through the entire development spectrum: from discovery and reliable harvesting, into preclinical research at the bench, through to animal testing and human clinical trials, and ultimately to approval by the U.S. Food and Drug Administration (FDA) as a cancer treatment in humans.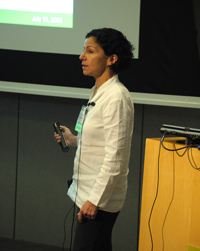 One idea that kept resurfacing throughout the two-day workshop was the creation of a consortium. Participants discussed the value of forming a collaborative network of scientists, resources, and facilities that would come together around a 'big-picture' strategic view of the field of botanicals research. The mission of such a network would be to sift through ideas, identify a few important botanical candidates for clinical testing, and then galvanize support for such studies, whether with funds from the government or the pharmaceutical industry.
Edward Chu, M.D., deputy director at Yale's Cancer Center and its chief of Medical Oncology, commented on the frustration expressed by some fellow CAM researchers about at times being relegated to the fringes of mainstream medical research. "This community must take a more rigorous 'Western' approach to research and the development of botanicals, if we expect to compete with major drug treatments coming out of the pharmaceutical industry labs," he contended.
"Perhaps the best way to convince mainstream research scientists and clinical investigators about the potential efficacy of botanicals and herbal medicines is to have at least one success story," said Dr. Chu.
Shaw Chen, M.D., Ph.D., associate director for Special Product Review at the FDA, heads the agency's new Botanical Review Team. He told the workshop participants that FDA has taken a number of steps to ensure the agency takes into consideration the special features of a botanical product and makes necessary adjustments during its review process. The agency issued a "Guidance for Industry-Botanical Drug Products," which is a blueprint to facilitate development of new therapies from botanical sources. However, Dr. Chen is disappointed that so few investigators have made a dedicated effort to push a botanical drug all the way through the process. "Without big pharma's resources or experiences, the nascent botanical industry will probably need more help from government agencies like NIH to move forward," he noted.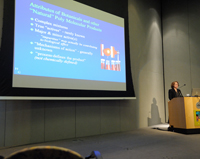 Many products and formulations are put forward by smaller companies, most of whom: "are content with marketing their product as a dietary supplement," explained Dr. Chen. Such products receive a less rigorous review by FDA, and approval is not required before marketing. "While many are in development, our botanical drug track has really been tested by only one marketing application (Veregen); so few botanical candidates have tried to navigate the regulatory process to come anywhere near Phase III trials," he added.
OCCAM Director Jeffrey D. White, M.D. noted, "NCI has a role as a facilitator in fostering botanical research and clinical trials". Barbara Sorkin, Ph.D., a program director at the National Center for Complementary and Alternative Medicine, also suggested that "a dedicated, multi-component funding mechanism might have to be developed to support a multi-pronged, multidisciplinary approach to botanical research."
NCI CAM News is produced by the Office of Cancer Complementary and Alternative Medicine (OCCAM). The Office of Cancer Complementary and Alternative Medicine (OCCAM) was established in October 1998 to coordinate and support the National Cancer Institute's (NCI) activities related to complementary and alternative medicine (CAM). OCCAM also serves as a focal point for NCI's collaboration with other governmental and non-governmental organizations on cancer CAM issues.
For inquiries on CAM and cancer, call 1-800-4-CANCER or visit cam.cancer.gov.