Last Updated: 01/22/13
Research Highlights
NCI-funded international team investigates wild toad extract in combination with gemcitabine as potential pancreatic cancer treatment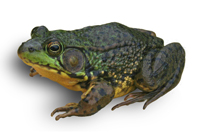 Toads may attract fairy tale princesses but research studies have suggested they may be even better at keeping certain cancers away. Huachansu, an injectable form of wild toad extract, is a Traditional Chinese Medicine used in China to treat liver, lung, pancreatic, and colorectal cancers. It is a standard treatment for advanced pancreatic cancer patients in China and preclinical research studies support its use. However, huachansu is not commonly used in Western countries. In a study* funded by NCI, scientists from the University of Texas MD Anderson Cancer Center and Fudan University in Shanghai, China investigated the effects of huachansu in combination with a conventional chemotherapy treatment in advanced pancreatic cancer patients.
In this study, patients were randomized to receive gemcitabine (standard chemotherapy treatment) along with huachansu or gemcitabine and a placebo. At the end of the study, median overall survival time was 160 days for patients that had received gemcitabine and huachansu and 156 days for patients that had received the placebo along with gemcitabine. When the researchers assessed progression-free survival in the study participants, they found that it was 99 days for patients in the huachansu group and 98 days for patients in the placebo group. Patients had also completed questionnaires about symptom severity and quality of life. According to the results, there were no differences in symptoms or quality of life between the two experimental groups at the end of the study.
Overall, the results of this study, recently published** in the British Journal of Cancer, suggested that there was no clinical benefit to adding huachansu to standard gemcitabine therapy for the treatment of advanced pancreatic cancer. Although the dose of huachansu used in this study was based on a previous clinical trial and is the same dose used in China for treatment, the authors observed that the dose may have been too low to see effects. They noted that a more potent formulation of huachansu — one that can be taken orally — is being developed. The authors also suggested that wild toad extract may have different effects in other types of cancers.
This clinical study was conducted at Fudan University Shanghai Cancer Center and "highlighted significant technical, legal, and logistical barriers to performing transnational studies, many of which were overcome successfully." The authors concluded that "Traditional Chinese Medicine therapies should continue to be evaluated in clinical trials to determine if these forms of therapy derive benefit to the patient."
*Project Number: U19CA121503-01
**Meng, Z., Garrett, C. R., Shen, Y., Liu, L., Yang, P., Huo, Y., Cohen, L. (2012). Prospective randomised evaluation of traditional Chinese medicine combined with chemotherapy: a randomised phase II study of wild toad extract plus gemcitabine in patients with advanced pancreatic adenocarcinomas. British Journal of Cancer, 107, 411-6.
Improving cancer treatment side effects: The promise of the Traditional Chinese Medicine formulation, PHY906
One promise of complementary and alternative medicines is their ability to help alleviate cancer treatment side effects, and in some cases help enhance the efficacy of anticancer drugs. The herbal formula, PHY906, has been studied extensively through in vivo mouse models and human clinical trials to test its effectiveness at easing cancer treatment gastrointestinal side effects and its potential to improve the efficacy of cancer drugs. PHY906 is a pharmaceutical grade (developed using technology that ensures consistency of different batches) formulation of a Traditional Chinese Medicine, Huang-Qin-Tang (HQT) composed of four distinct herbs. The traditional HQT has been used for nearly 1800 years for treating gastrointestinal distress, such as diarrhea, vomiting, nausea, and extreme thirst. The four distinct herbs found in HQT and PHY906: the roots of Scutellaria baicalensis Georgi (skullcap); Glycyrrhiza uralensis Fisch (licorice); Paeonia lactiflora Pall (peony); and the fruit of Ziziphus jujuba Mill (Chinese date) each exhibit "a distinct pharmacological profile; [including] anticancer and antiviral activity, hematological and immunological modulation, analgesic activity, liver protection, and appetite improvement" (Liu & Cheng, 2012).
In a paper recently published in the Journal of Ethnopharmacology*, study authors reported on research supported in part from grants from the National Cancer Institute** and the National Center for Complementary and Alternative Medicine (NCCIH). The report provides an overview of preclinical studies using murine (mouse) tumor models and describes the PHY906 clinical program, consisting of five clinical trials conducted in the United States and Taiwan, examining three different types of cancers (liver, colorectal, and pancreatic).
In preclinical trials, PHY906 was used in conjunction with CPT-11 (irinotecan), commonly used for colorectal cancer. CPT-11 can cause severe late-onset diarrhea, and PHY906 was hypothesized to reduce the severity of this side effect. Mice bearing murine colon tumors were treated with a single high dose of CPT-11, either with or without daily administration of PHY906. Results indicated that PHY906 was able to "reduce CPT-11-induced body weight loss in a dose-dependent manner with maximum protective effect occurring at a PHY906 dose of 500 mg/kg" ( Liu & Cheng, 2012). Also 100% of tumor-bearing mice survived with CPT-11 plus PHY906 treatment, while only 60% of mice treated with CPT-11 alone survived. PHY906 also increased the antitumor activity of CPT-11 in the mouse models of colon cancer, as well as in two other murine cancer models and chemotherapy drugs tested (hepatocellular cancer and capecitabine; and pancreatic cancer and gemcitabine).
The paper also outlines some of the findings of five clinical trials including: two phase 1 studies in advanced colorectal cancer; one phase I/II study in advanced hepatocellular carcinoma; one Phase II study in advanced hepatocellular carcinoma; and one phase I/II study in advanced pancreatic cancer. These trials consisted of a total of 150 patients that received varying dose regimens of chemotherapy drugs and 200 mg capsules of PHY906. Discussion of one such trial, of patients with colorectal cancer using CPT-11, follows.
A clinical trial for patients with metastatic or unresectable malignancies was conducted at the Yale Cancer Center. This Phase I study had the primary objective of determining the maximum tolerated dose of PHY906 when combined with a standard dose of CPT-11. CPT-11 was administered intravenously, once every two weeks in escalating doses (180 mg/m2 to 250 mg/m2). PHY906 was administered orally twice daily on days 1-4, every two weeks, with escalating doses (1200 mg twice daily to 2400 mg twice daily).
Results from the first twenty-five patients accrued to the Phase I study were reported at the annual American Society of Clinical Oncology conference in 2010. CPT-11 is commonly used at a dose of 180 mg/m2 — higher doses are associated with diarrhea, as a dose limiting toxicity. In the above study, when combined with PHY906, patients were able to take up to 215 mg/m2 of CPT-11, with no serious side effects (grade 3 or higher diarrhea). These results showed the positive effect PHY906 can have on cancer treatment side effects and indicated that higher doses of standard chemotherapies may be better tolerated by patients using the herbal formula.
The paper noted that it is important to understand that all of the PHY906 clinical studies, except for one, lacked appropriate control arms. Future phase II and phase III double-blind, randomized, placebo-controlled studies with sufficient patient populations will be required to further push this herbal medicine forward.
More information about this research and the other preclinical and clinical trials reported in this article are available online by reading the full journal article: http://www.ncbi.nlm.nih.gov/pubmed/22326673
* Liu, S.H. & Cheng, Y.C. (2012). Old formula, new Rx: the journey of PHY906 as cancer adjuvant therapy. Journal of Ethnopharmacology, 140(3), 614-23. Retrieved from http://www.ncbi.nlm.nih.gov/pubmed/22326673
**Project Number: 5P01CA154295-02
New research identifies biomarkers that may help determine how useful berry-based treatments are for treating colorectal cancer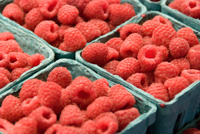 Research studies have suggested that eating freeze-dried black raspberries may provide benefits for colorectal cancer patients. However, biomarkers that help determine how effective the raspberry interventions really are need to be identified. There is increasing evidence that inflammation and cytokines (substances made by cells of the immune system) play a role in promoting many types of cancers, including colorectal cancer. In addition, black raspberries may inhibit colorectal cancer by changing concentrations of certain cytokines. In a recently published study*, funded by the National Cancer Institute of the U.S. National Institutes of Health**, scientists investigated whether consumption of black raspberries would lead to changes in cytokine concentrations and whether these changes may reflect improvements in colorectal tissue.
As part of the study, colorectal cancer patients drank a freeze-dried black raspberry powder mixed with water 3 times a day until surgery (approximately 3 weeks). Plasma and tissue samples were obtained before berry treatment (during colonoscopy), and at the end of the treatment.
Patients who drank the raspberry treatment for 10 days showed changes in plasma concentrations of interleukin 8 (IL-8) and granulocyte macrophage colony stimulating factor (GM-CSF). Previous research has suggested that GM-CSF may have anti-tumor effects by activating the immune system, while IL-8 may bolster cancer progression by decreasing cancer cell death. The results of the current study indicated that, following raspberry intervention, decreased cancer cell growth was related to increased plasma concentrations of GM-CSF and increased cancer cell death was related to decreased plasma concentrations of IL-8. According to the researchers, the "results suggest that changes in plasma concentrations of GM-CSF and IL-8 are associated with changes in colorectal tissue markers in response to the berry treatment."
The researchers concluded that "changes in plasma GM-CSF and IL-8 concentrations may serve as indicators of beneficial response to berry treatment and thus, may be useful as a means to monitor response to berry-based interventions for colorectal cancer."
*Mentor-Marcel, R.A., Bobe, G., Sardo, C., Wang, L.S., Kuo, C.T., Stoner, G., Colburn, N.H. (2012). Plasma cytokines as potential response indicators to dietary freeze-dried black raspberries in colorectal cancer patients. Nutrition and Cancer, 64(6),820-5.
**Project Numbers: CA103180 and CA148818