Last Updated: 11/9/12
What is OCCAM?
Established in October 1998, OCCAM is responsible for NCI's growing research agenda in CAM as it relates to cancer prevention, treatment, symptom management, and rehabilitation. OCCAM also acts as NCI's primary link to CAM communities and cancer researchers regarding CAM and cancer. OCCAM is directed by Dr. Jeffrey D. White, a medical oncologist with a background in laboratory and clinical cancer research.
OCCAM has been building bridges between CAM practitioners and the cancer research community, creating additional funding opportunities to test CAM approaches using scientifically rigorous research methods, working with other NCI programs to facilitate the testing of CAM approaches to cancer management, helping CAM researchers with the grant application process, and investigating research challenges unique to CAM approaches. In addition, OCCAM has collaborated with other non-governmental and governmental organizations, such as the National Center for Complementary and Alternative Medicine (NCCIH), on cancer CAM issues. Through its activities and those of many other programs at the Institute, NCI's research expenditures for CAM have more than quadrupled (fiscal year 1998 - $28.2 million, fiscal year 2004 - $129 million).
Research Development and Support Program
The Research Development and Support Program (RDSP) is directed by OCCAM Deputy Director Dr. Wendy B. Smith, M.A., Ph.D., B.C.I.A.C., a research psychologist with advanced training in hypnosis and a nationally certified biofeedback therapist. Dr. Smith joined NIH in 1990 as a research psychologist with the Anesthesiology and Neurobiology Branch of the National Institute of Dental and Craniofascial Research. She came to OCCAM in 2000 to lead RDSP.
This program was established to help investigators by identifying and creating funding opportunities and providing assistance in the pre- and post-review periods of grant application. Working to stimulate research in cancer CAM, RDSP staff design activities that will develop the foundation of science in this area of medicine. RDSP hosts a series of Expert Panels in Cancer CAM Research, the Invited Speakers Series, and workshops to help investigators prepare grant applications in cancer CAM.
Practice Assessment Program
The Practice Assessment Program (PAP) is directed by Dr. White and coordinated by Commander (CDR) Colleen Lee, RN, M.S., AOCN®, a certified advanced practice oncology nurse and a commissioned officer in the US Public Health Service. Prior to coming to OCCAM in 2001, CDR Lee was a clinical research nurse in the Nursing Department at the National Institutes of Health (NIH).
PAP reviews retrospective and some prospective data on cancer patients treated with alternative therapies. The NCI Best Case Series Program, the most well-known component of PAP, provides an opportunity for CAM practitioners to submit medical data regarding their cancer CAM treatments. Practitioners are asked to submit patient records for evaluation by experts in clinical assessment and cancer treatment research. Results of the NCI Best Case Series Program include recommendation for NCI-initiated research and the sharing of well-documented best cases with interested members of the scientific community in order to stimulate research.
Communications and Outreach Program
The Communications and Outreach Program (COP) is directed by Dr. White and coordinated by Shea Buckman, M.A., a health communication professional who recently joined OCCAM after serving as both a media specialist and the exhibit program coordinator for NCCIH.
COP disseminates information about NCI program initiatives and funding opportunities, workshops and other events, and educational materials through OCCAM's Web site and publications. In addition, COP assesses the opinions, interests, and informational needs of cancer researchers, CAM practitioners, and cancer patients regarding CAM research via surveys and focus groups. Results from these explorations are used to guide outreach efforts to these communities.
OCCAM Staff
Name
Title
Jeffrey D. White, M.D.
Director, OCCAM
Wendy B. Smith, M.A., Ph.D., B.C.I.A.C.
Deputy Director, OCCAM
Director, Research and Development Support Program
CDR Colleen Lee, RN, M.S., AOCN®
Manager, Practice Assessment Program
Shea Buckman, M.A.
Manager, Communications and Outreach Program
Christina Armstrong
Administrative Program Assistant
Ashanti Certain
Office Assistant
Libin Jia, M.D.
Scientific Program Director (on detail)
Dan Xi, Ph.D.
Biologist (on detail)
Oluwadamilola Olaku, M.D., MRCOG
Scientific Program Analyst
Phil Tonkins, Jr., DrPH
Scientific Program Analyst
Karen Alladin, M.S.
CRTA Fellow
Elisabeth Beaver, M.S.
CRTA Fellow
Tai N. Baker
Health Communications Intern
OCCAM Staff 2005: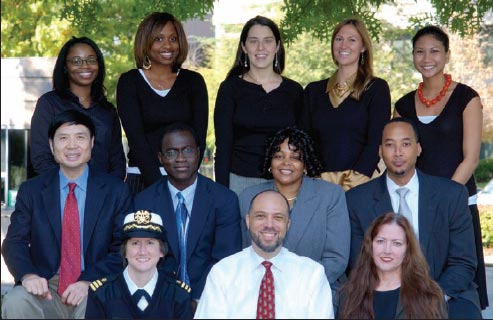 Contact Information
Office of Cancer Complementary and Alternative Medicine
National Cancer Institute
6116 Executive Boulevard, Suite 609
Bethesda, Maryland 20892
E-mail: ncioccam-r@mail.nih.gov
http://cancer.gov/