Last Updated: 11/9/12
News from the Field
Introducing Dr. Zia!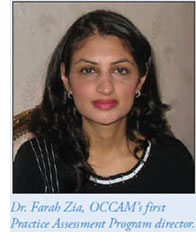 Meet the newest addition to OCCAM! In September 2007, Dr. Farah Zeba Zia became the new Director of OCCAM's Practice Assessment Program (PAP).
The two main activities of PAP are the NCI Best Case Series (BCS) Program and the Practice Outcomes Monitoring and Evaluation System (POMES) Program. The NCI BCS Program reviews data from CAM practitioners who have used alternative medical approaches to treat cancer patients, while the POMES Program determines whether a phenomenon observed in a retrospective case review is reproducible in a larger population. These two programs allow OCCAM to determine the best suited CAM practices for possible future NCI-initiated research.
As PAP Director, Dr. Zia works with PAP Coordinator, CDR (USPHS) Colleen Lee, to find the most appropriate projects that may warrant further investigation within NCI.
"We're excited to have Dr. Zia take over the responsibilities of this program," says OCCAM Director Dr. Jeffrey D. White. "Her presence will give us a greater capacity to explore the potential for clinical work in NCI's intramural program."
"There are several CAM studies that show promise," Dr. Zia says. "My interest and goal would be to actually put some of the promising treatments into clinical trials at NCI."
Dr. Zia obtained her bachelor's and master's degrees from George Washington University (GWU), as well as her doctorate of medicine degree from GWU's School of Medicine. After her residency in internal medicine there, Dr. Zia headed to NIH. In 2000, she began a fellowship at NCI and the National Heart, Lung, and Blood Institute, where she worked in the oncology and hematology wards, as well as developed and implemented clinical trials with the breast oncology team. After NCI, Dr. Zia became a full-time staff oncologist with the Mid-Atlantic Permanente Medical Group practicing in northern Virginia hospitals. Her solid background in oncology and clinical trials will undoubtedly be a great asset to OCCAM and PAP.
"This position has a lot to offer," Dr. Zia says. "The wealth of diverse knowledge and expertise available at NCI make this a great place to work, and I am very excited to be back here."
During her time at Mid-Atlantic as a community oncologist, many of her cancer patients asked about alternatives to their treatment and recovery.
"Cancer patients are looking for hope and there are a lot of things (in CAM) that can be mentally helpful for them," Dr. Zia says. "I want to help oncology patients lead a better life."
Besides evaluating data on cancer patients treated with unconventional therapies, Dr. Zia is also very interested in fostering collaborations between cancer researchers and CAM practitioners. A focus on building connections between the practice community and the research community is a very important factor to advance the science.
For more information on the NCI's Program Assessment Program, please visit http://cam.cancer.gov/about_us/about_programs.htm#pap.
Traditional Chinese Medicine Conference Cultivates International Collaboration
This year, NCI gained a new fellow, Dr. Jie Li, from Beijing, China as a direct result of the OCCAM-sponsored conference Traditional Chinese Medicine and Cancer Research: Fostering Collaborations; Advancing the Science, which took place in April 2006.
Dr. Li of the Research Center of Oncology at Guang An Men hospital in Beijing attended the TCM conference as a participant, along with the director of his department, Dr. Hongsheng Lin, a guest speaker who presented her clinical study of improving median survival time of lung cancer with a TCM intervention. Dr. Li's specialty is utilizing the TCM mixture Sheng Qi formula, a Chinese medicine compound, to decrease the side effects of chemotherapy.
During the conference, Drs. Lin and Li met with Dr. O.M. Zack Howard, a staff scientist with the Laboratory of Molecular Immunoregulation (LMI), Cancer and Inflammation Program, Center for Cancer Research at NCI-Frederick, who had an interest in Drs. Li and Lin's work and similar work with Chinese herbs. Not long after their introduction, the topic of potential future collaboration came up during the conversation.
"We thought we might have some common, interesting research to do in the future," Dr. Li says.
At the end of the conference, Drs. Lin and Li visited NCI-Frederick to explore the facilities. After discussions between LMI, OCCAM Director Dr. Jeffrey D. White, and Guang An Men hospital, all parties agreed that a co-funded postdoctoral training at NCI, sponsored by the Office of International Affairs, was a good way to begin collaborating on this specific area of cancer CAM research.
Guang An Men hospital selected Dr. Li as the candidate for the fellowship. For the last eight months, he's been working with Dr. Howard, exploring the anti-cancer effect and immune stimulating effects of the Sheng Qi formula, a mixture of herbs often used at Guang An Men hospital to decrease the side effects of chemotherapy. A novel aspect of Drs. Howard and Li's project is the use of a murine model of inflammatory breast cancer to assess the impact of the herbal formula on the function of myeloid immunosuppressive cells.
"I feel very happy to work with Dr. Howard," Dr. Li says. "We are going smoothly with our research plan, and I think our study will benefit cancer patients."
Due to the success of Dr. Li's research, the Chinese government's Ministry of Science and Technology has agreed to provide funds to extend his fellowship.
First Transagency Cancer CAM Fellow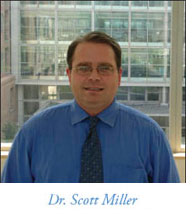 The National Center for Complementary and Alternative Medicine (NCCIH) and NCI welcomed its first CAM oncology fellow in July 2007. The three-year fellowship provides an opportunity for physicians to do a traditional oncology fellowship while also gaining expertise in CAM and cancer research, policy and regulatory affairs, and clinical investigations.
CAM approaches for cancer treatment and prevention are increasingly being used by patients to the point where oncologists need to be versed in the use, benefits, and risks of CAM practices. Because of this, NCCIH and NCI created this fellowship to train oncologists and encourage clinical research in cancer CAM practices.
The fellowship was awarded to Dr. Scott Miller of Iowa City, Iowa, who graduated from the University of Iowa College of Medicine, and completed a residency in family medicine at Loma Linda University Medical Center in California, known for its health and wellness research. His combined interests in oncology and CAM brought him to NIH.
"There is no other fellowship that has a research focus on CAM and oncology," Dr. Miller says. "It was a unique position."
Right before coming to NIH, Dr. Miller completed the first year of his medical oncology fellowship at the University of Iowa. His next two years will be spent mostly at NIH, but will also include brief rotations at the Naval Medical Center and the Food and Drug Administration.
His fellowship will include time working at OCCAM, where Dr. Miller will be exposed to the grant application and review processes and the review of clinical CAM practices used in cancer treatment via participation in the NCI Best Case Series Program, evaluating documentation of patients treated with CAM approaches to determine if further research sponsored by NCI is warranted.
Also over the two years, he will design, formulate, and execute an original clinical research project pertaining to his area of interest, which may include a proposal looking at immune system stimulation and medicinal mushrooms.
"I've always had an interest in CAM," Dr. Miller says. He attributes this interest to the influence of his parents who practiced alternative medicine, mostly home remedies.
After spending two and half years working in Kotzebue, Alaska, for the Indian Health Service, Dr. Miller decided to return to training in internal medicine and then oncology with an interest to concentrate on cancer and CAM specifically.
"My overall goal is to participate in a team that is investigating CAM modalities in cancer patients," Dr. Miller says.