Last Updated: 6/28/12
Alpha-Lipoic Acid Plus Low-Dose Naltrexone Reviewed for Cancer Treatment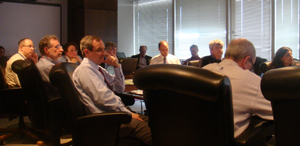 A panel of researchers and clinicians was convened by the National Cancer Institute (NCI) on March 19, 2012 for presentations and a roundtable discussion about "The State of the Science of Alpha-Lipoic Acid plus Low-Dose Naltrexone for the Treatment of Cancer." The meeting was hosted by the NCI Office of Cancer Complementary and Alternative Medicine (OCCAM) and the Cancer Therapy Evaluation Program (CTEP), both part of the NCI Division of Cancer Treatment and Diagnosis (DCTD).
The meeting provided an opportunity for NCI staff and outside experts to review and discuss case reports from Dr. Burton M. Berkson, an integrative medicine physician and Ph.D. in Biological Sciences, and Adjunct Professor at New Mexico State University. Dr. Berkson presented on his experience treating patients with alpha-lipoic acid (ALA) plus low-dose naltrexone (LDN) for various cancers and autoimmune diseases. The group also heard from Dr. Renee N. Donahue, Research Fellow in the Laboratory of Tumor Immunology and Biology at the NCI Center for Cancer Research, about her pre-clinical research on the efficacy and proposed mechanism of action of LDN for the treatment of cancer.
Dr. Farah Zia, Director of OCCAM's Case Review and Intramural Science Program, noted, "The cases being presented today by Dr. Berkson were submitted and given rigorous scientific evaluation under the NCI Best Case Series (BCS) protocol. The ultimate goal of the BCS is to identify those complementary and alternative medicine (CAM) interventions that have enough evidence to support NCI-initiated research." Dr. Zia also noted two ongoing NIH-supported clinical trials of naltrexone in cancer patients. The first is taking place at the University of Minnesota for patients with breast cancer1 and the second is running at Duke University for glioma patients2.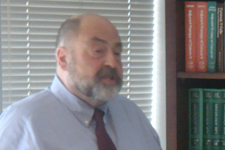 Dr. Berkson presented seven case reports on patients with advanced cancers (pancreatic and lymphomas) that he had treated over the past 10 years with a combination of ALA (intravenously and orally) and LDN (orally), along with diet, vitamins, and lifestyle changes. Earlier in his medical career, Dr. Berkson reported success using ALA to repair liver damage in patients from mushroom poisoning or chronic infections with hepatitis C virus. He also cited a number of research articles in European medical journals showing ALA's beneficial effects on cancer.
Dr. Berkson learned about the use of LDN for treating cancer from a patient with advanced prostate cancer. He reported to Dr. Berkson after the successful therapy with LDN of both the patient's cancer and rheumatoid arthritis (RA). Subsequently, Dr. Berkson offered LDN to his patients with RA and other autoimmune diseases. "Within about a month, most of the patients were off all drugs and feeling completely normal on just LDN, at $15 a month," he recalled. In his presentation of the case reports, Dr. Berkson reported uniformly positive responses and low toxicity from the ALA/ LDN regimen for each of the seven cancer patients. Of the seven cases presented by Dr. Berkson, four had pathology specimens reviewed through the NCI Best Case Series protocol. NIH and NCI specialists in radiological imaging (Dr. Elizabeth Jones) and pathology (Dr. Avi Rosenberg) reviewed the available medical imaging studies and pathology slides of the four cases. Of the four cases reviewed, three had confirmed pathologic diagnosis while one had a diagnosis that could not be definitively confirmed.
Dr. Berkson commented, "I try to discourage many cancer patients who call my office because I'm not an oncologist; however, I do work with cancer patients who are also seeing an oncologist." He acknowledged that the ALA/LDN protocol works better for rheumatoid disease, "but I think it deserves some type of clinical trial in cancer patients as well."
Dr. Gregory Plotnikoff, from Allina Hospitals System in Minneapolis, Minnesota reported that his hospital has 36 advanced cancer patients using LDN with and without ALA on a compassionate-use basis as well as an open-label study of the LDN treatment for aromatase inhibitor-induced pain in breast cancer. "The oncologists there are intrigued and anxious to do rigorous trials because they believe that there is something here that they have not seen from any other therapies," he said.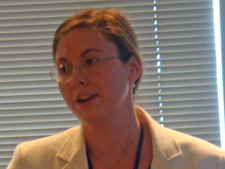 Dr. Donahue presented findings from her research as a doctoral graduate student at the Penn State College of Medicine in the lab of Dr. Patricia J. McLaughlin and Dr. Ian S. Zagon. The lab's research focused on the role of the cellular peptide opioid growth factor (met5-enkephalin) — or OGF — and the OGF receptor (OGFr) axis in cancer and autoimmune diseases.
"Our initial studies have shown that if you block the interaction between OGF and OGFr with an opioid receptor antagonist, such as naltrexone, you get an increase in cell proliferation," Dr. Donahue reported. "However, subsequent studies have shown that if you use a lower dose of opioid receptor antagonist, such as LDN, you actually get the opposite effect, a decrease in cell proliferation."
Dr. Donahue presented findings from use of LDN in both human ovarian cancer cell cultures and for treating human ovarian tumors grafted into mice. The lab found significantly reduced cancer cell growth in cultures treated with LDN. Additional experiments suggested that LDN achieved this effect not by killing cancer cells but by blocking DNA synthesis in the cancer cells which prevented them from proliferating.
In the subsequent studies in nude mice (mice with deficient immune systems), the researchers found that LDN treatment reduced the size of ovarian tumors when compared to mice who received saline solution only, Dr. Donahue said. Tumors in LDN-treated mice also had fewer blood vessels feeding them, compared to the saline control group. The Penn State lab has found similar positive responses to LDN in other human cancer cell lines and mouse studies, including for pancreatic cancer, she added.
Dr. Donahue has also studied the effects of LDN or OGF in combination with common chemotherapy agents for cancer, such as taxol and cisplatin. She reported that LDN did not interfere with the tumor reduction effects of those drugs and, in one case, seemed to enhance the drug's effect.
CTEP Director Dr. Jeffrey Abrams responded, "That could be a study design for a clinical trial that potentially could be attractive if we could show that that LDN and ALA are not going to hurt your chemotherapy, so you don't have to worry about that. You can give chemo plus or minus LDN or LDN and ALA and see if we could really do a controlled study in cancer."
As a result of this meeting, OCCAM will continue the Best Case Series Protocol evaluation process which requires cases to be reviewed by a panel of cancer specialists. These specialists will provide specific advice about whether NCI-initiated research is warranted. Discussion at NCI has focused on developing and presenting a phase 0/1 concept to the Division of Cancer Treatment and Diagnosis (DCTD) protocol concept review committee. The concept would investigate preliminary informational objectives in the utilization of low-dose naltrexone for the treatment of advanced/metastatic cancer in patients who have progressed on prior chemotherapy. If the concept is approved, the clinical trial would be conducted at the NIH Clinical Center, under the auspices of the DCTD Early Drug Development Clinic.