Last Updated: 1/20/12
Meetings
OCCAM leads workshop at the Eighth International Conference of the Society for Integrative Oncology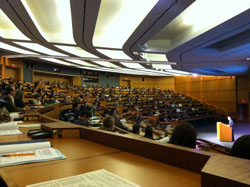 For the past eight years, national and international researchers with an interest in integrative oncology have gathered to present the latest research in this burgeoning field. The Society for Integrative Oncology (SIO) held its Eighth International Conference in Cleveland, OH, on November 10-12, 2011. This year's conference included over 500 attendees, and 3 days of oral and poster presentations. The conference theme of "Innovating Integrative Oncology: New Science, New Solutions" spoke to the wide array of attendees, including researchers, funding agencies, health care professionals, patients, and advocates. SIO is a non-profit professional society committed to the research and application of complementary therapies and botanicals for cancer treatment and recovery.
This year's keynote speaker was National Institutes of Health (NIH) Director Francis S. Collins, M.D, Ph.D. His talk, "Seeking Out the Most Effective Interventions for Cancer Prevention and Treatment," focused on what NIH and NCI are currently funding in the field of integrative cancer treatment and prevention, along with a look at the NCI Cancer Genome Atlas (http://cancergenome.nih.gov/). Dr. Collins emphasized NIH's commitment to the field of integrative oncology and encouraged researchers to forge ahead with their work in the face of shrinking budgets.
OCCAM presented a 90-minute workshop, "One-on-One with the National Cancer Institute Office of Cancer Complementary and Alternative Medicine." OCCAM staff Oluwadamilola "Dami" Olaku, M.D., Elizabeth Austin, M.S., Libin Jia, M.D., and Dan Xi, Ph.D. participated on the panel. Each panelist represented one of OCCAM's main program areas and presented a brief talk on their respective program and recent projects underway at the Institute. The session was intended for attendees interested in funding opportunities from NCI, in learning more about how to submit cases to the NCI Best Case Series Program, and for those seeking information about communication and international activities originating from OCCAM. OCCAM staff was also available throughout the conference for more in-depth one-on-one conversations at the OCCAM exhibit booth throughout the 3-day conference.
Communications and Outreach Program Coordinator Elizabeth Austin, M.S., who moderated the OCCAM workshop, stated, "The workshop gave the audience a basic overview of our office and programs. Each program area was able to present our key initiatives and then sit back and let the audience dive into their areas of interest through their questions. We were available to set up meetings during the conference with attendees and provide detailed feedback to questions at the end of our session and throughout the conference. It's our hope that by attending prominent CAM or cancer conferences we are better able to interact with researchers, on a one-on-one level, and share information about the CAM funding available from NCI and the diverse ways NCI is supporting cancer CAM research."
Dr. Libin Jia, of OCCAM, also moderated a panel of oral presentations titled, "Addressing Side Effects of Conventional Therapies." Dr. Jia noted that presentations in his session covered a wide range of topics related to treating chemotherapy and radiation side effects with botanical and herbal products, including mushrooms and "miracle fruit" (the African fruit Synsepalum dulcificuma), among others. "Since side effects from chemotherapy can negatively affect quality of life of many cancer patients, finding therapies to ease or improve these side effects becomes an important issue for clinical practice. Even though the clinical trials of many of the therapies presented are still in early phases, the primary positive outcomes are encouraging," said Dr. Jia.
The Eighth International Conference of Society for Integrative Oncology was funded in part by a R13 conference grant from the National Cancer Institute (1R13CA144223-01A1), and further information about the conference is available on the Society for Integrative Oncology website (http://www.integrativeonc.org).
Two OCCAM fellows present original research at the American Public Health Association Annual Meeting
One of the most diverse and well-rounded public health meetings in the United States, the 139th Annual Meeting and Exposition of the American Public Health Association, drew crowds of over 13,000 to Washington, DC. National and international health care professionals, researchers, students, and interested members of the public gather each year to present current research findings in public health.
This year, two OCCAM fellows, Miriam Al-Keliddar, M.P.H. and Jeans Santana, B.A., presented their original OCCAM-supported research as part of the Alternative and Complementary Health Practices, Special Primary Interest Group session. Supported by their OCCAM mentors and other research experts, Ms. Al-Keliddar and Mr. Santana diligently researched and assembled their presentations to highlight their findings, as well as support the mission of OCCAM.
Ms. Al-Keliddar works with the Extramural Research Program at OCCAM and gave an oral presentation about the "Use of complementary and alternative medicine during active surveillance among prostate cancer patients." Ms. Al-Keliddar states, "Active surveillance is a form of expectant management that can be used by men with low-grade, localized, asymptomatic disease, and consists of regular monitoring of disease progression through PSA (a biomarker of prostate cancer) tests and digital rectal exams, under the direction of an oncologist. Complementary and alternative medicine (CAM) use, such as soy or lycopene supplementation, may extend this asymptomatic period, delaying the necessity of treatment and its possible side effects." Methods for this research included a literature review of studies that focused on use and effectiveness of CAM during active surveillance among patients with prostate cancer (PC). Results revealed that genistein, a phytoestrogen and one of the active ingredients in soy, may reduce PSA levels and lengthen doubling time (a possible indicator of PC progression). Lycopene (an antioxidant found in tomatoes) and curcumin (a component of the Asian spice turmeric) have also been shown to lower PSA levels and possibly prevent the progression of PC. While the initial research is promising, some reviewed studies were inconclusive or showed no difference in PSA levels. Further studies are needed to maximize statistical power, better understand how various doses can affect biomarkers of PC, and gain a clearer view of efficacy.
Ms. Al-Keliddar will continue her research in this area while at OCCAM, and she will also investigate disparities in CAM use among PC patients and the potential utility of certain CAM approaches in patients with oral cancers. Ms. Al Keliddar hopes to put her experience at OCCAM to work in a career in dentistry, and has honed her research and scientific skills in the past two years to begin her journey to dental school. As for her oral presentation at APHA, Ms. Al-Keliddar notes, "The presentation gave me the opportunity to work on my public speaking skills and test my ability to make scientific research relatable to people from many different disciplines."
Mr. Santana works with the Case Review and Intramural Science Program at OCCAM and his research has focused on CAM use among Hispanics, as well as disparities in CAM use. His poster presentation, titled "Complementary and alternative medicine use by Hispanic cancer patients and the impact of acculturation: National Health Interview Survey 2007," described the prevalence of CAM use among U.S.- and foreign-born Hispanic adults diagnosed with cancer and analyzed how acculturation (the cultural modification of an individual or group in response to contact with another culture) affects CAM use. Discussions of limitations of the dataset and strategies were also included on the poster. Data from 129 Hispanic cancer patients from the 2007 National Health Interview Survey (NHIS) were analyzed to learn about CAM use. Results showed that Hispanics with cancer had a higher percentage use of manipulative modalities (including massage therapy) (16.3%), as compared to other modalities such as mind/body (for example, meditation) (9.3%) and biological (such as herbs) (1.6%). Results concluded that CAM use among Hispanic cancer patients is relatively low. The effect acculturation has on CAM-use patterns for foreign-born Hispanics was undeterminable due to small sample size (n=129). "The Hispanic community is quickly growing," Mr. Santana noted, "and they [Hispanics] are heterogeneous, descending from varying cultural histories and beliefs. Shedding light on CAM-use differences and similarities of these individuals will better equip health care providers who consult with Hispanic cancer patients."
During his time at OCCAM, Mr. Santana has assisted with the NCI Best Case Series (BCS) Protocol performing case report reviews and working with NCI BCS staff to determine the merit for prospective research of alternative therapies. Mr. Santana will be attending medical school in the fall, with current plans to focus on Latino and global health. "Hispanics aren't the only population with challenges, thus I think it will be to my benefit to be as culturally competent as possible once I begin to treat a diverse set of patients," Mr. Santana added.
Further information about the research presented by OCCAM at APHA is available by contacting the office at ncioccam1-r@mail.nih.gov.
OCCAM Director Invited to Speak at the International Symposium on Malignant Mesothelioma
OCCAM Director Dr. Jeffrey D. White was invited to speak at the International Symposium on Malignant Mesothelioma 2011 meeting held on June 24, 2011 in Washington, DC. This event was sponsored by the Mesothelioma Applied Research Foundation, a nonprofit collaboration made up of patients, their families, physicians, researchers, and advocates who have the goal of eliminating mesothelioma.
Dr. White gave a talk titled, "Complementary and Alternative Approaches in Mesothelioma Treatment." His talk began with an overview of complementary and alternative medicine (CAM), highlighting various CAM modalities. He mentioned negative attitudes towards CAM but also described a "bright side of CAM," including increased NIH funding of CAM research and an increased number of CAM research results published in high quality medical journals.
Dr. White then focused on clinical trials. He mentioned resources that patients can use to find information about clinical trials and provided examples of cancer CAM clinical trials that are currently being supported by NCI. For example, a quick search for CAM trials associated with neuropathy (nerve damage that can occur after chemotherapy treatment) revealed studies using acupuncture to decrease symptoms.
Dr. White noted, "Mesothelioma is a relatively uncommon cancer and when it is not surgically cured the standard chemotherapy approaches have limited effectiveness. Though there is not much research of CAM approaches specifically for mesothelioma, much of the symptom management and quality of life research is very relevant for managing patients with this disease."
The presentation concluded with a question-and-answer session with the audience. Audience members asked a variety of questions ranging from information about specific CAM modalities (such as omega-3 fatty acids and acupuncture) to seeking more information about participating in clinical trials.