Last Updated: 1/14/11
Funding Opportunities
Funding Available for Research Focused on Symptom Interactions in Cancer and Immune Disorders
Over the past ten years, symptom research has been an area of interest to the cancer research community, with a particular focus on the inter-relationship between various common cancer symptoms. Researchers have begun to consider the interactions of symptoms as a cluster instead of just focusing on individual symptoms for example, pain, depression, and fatigue. To better understand the mechanisms of symptom interaction and further the symptom cluster concept, more research is needed.
In March 2008, the National Cancer Institute, National Institute of Nursing Research, National Institute on Aging, and National Center for Complementary and Alternative Medicine released Program Announcement (PA) PA-08-121 titled "Symptom Interactions in Cancer and Immune Disorders (R01)". This PA seeks research that will work towards identifying and assessing interactions among two or more related co-occurring symptoms and "characterize mechanisms and pathways underlying the symptom interaction". It also encourages research that can more closely define and categorize a symptom cluster. Both observational and intervention research is encouraged.
To learn more about this PA, please visit: http://grants.nih.gov/grants/guide/pa-files/PA-08-121.html.
Biology of Manual Therapies (R01) studied at NIH
The National Cancer Institute and the National Center for Complementary and Alternative Medicine are committed to funding large projects that study manual therapies such as spinal manipulation, mobilization and massage therapy. The funding opportunity announcement (FOA) titled PA-10-209: Biology of Manual Therapies, originally released on May 27, 2010 solicits research applications exploring the basic science and mechanisms of action underlying the biomechanical, immunological, endocrinological and/or neurophysiological consequences of manual therapies.
Manual therapies focus on a host of techniques that target structures and systems of the body such as bones and joints, muscles, connective tissues, and the neurological systems. The belief that reducing abnormal stresses and improving alignment of the skeleton and its associated soft tissues will elicit the body's natural ability to heal is a driving force in these therapies.
Examples of appropriate investigations for this FOA include, but are not limited to:
Imaging studies of the central nervous system response to manual therapies using relevant technologies (e.g., fMRI, PET, SPECT, EEG, etc.) with the goal of elucidating mechanisms that result in modulation of chronic pain;
Development of validated biomarkers for back pain that would be used in subsequent clinical studies of manual therapies;
Measurement of physiological changes that may result from manual therapies, with emphasis on the nervous system (and especially the central nervous system), immune system, endocrine system, and interactions thereof.
More examples and information are available on the program announcement web page at: http://grants.nih.gov/grants/guide/pa-files/PA-10-209.html.
You may also contact Dr. Isis Mikhail, Director of the Extramural Research Program, in the Office of Cancer Complementary and Alternative Medicine at NCI for more information or guidance when applying for this announcement. Dr. Mikhail can be reached at: mikhaili@mail.nih.gov.
The Role of Microbial Metabolites in Cancer Prevention and Etiology (U01)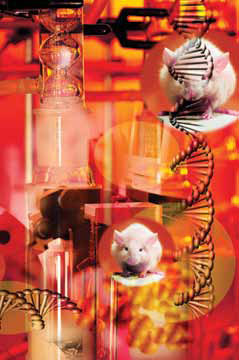 This FOA utilizes the U01 cooperative agreement mechanism and encourages research to better understand the role of dietary components in cancer etiology, prevention, and cancer health disparities to identify who might benefit from specific dietary recommendations and who might be placed at risk.
Program Announcement (PA) number PAR-10-208 titled the "The Role of Microbial Metabolites in Cancer Prevention and Etiology (U01) was initially released on May 27, 2010 by the NCI and the National Center for Complementary and Alternative Medicine (NCCIH). This announcement encourages the submission of grant applications that characterize the effects of microbially generated metabolites of dietary components on host cell biology to understand the molecular mechanisms of action that affect host cell proliferative/apoptotic responses, cytokine production, inflammatory and immunomodulatory effects. Human intervention studies that identify inter-individual variability among various racial and ethnic group in the production of bacterial metabolites will help determine their efficacy in cancer prevention.
One of the goals of this PA is to facilitate interdisciplinary collaborations among scientists engaged in nutrition, cancer prevention, cancer cell biology research, and cancer disparities research with those conducting studies with gut microorganisms. All applications must include multiple principle investigators with different areas of expertise such as microbiology, nutrition, cancer biology, analytical chemistry, or genetics.
Specific research areas of interest include, but are not limited to, the following areas:
Examining metabolites of polyphenols generated by gut bacteria and determine their role in inflammation and colorectal cancer.
Utilizing mouse models of human cancer with either a human flora or germ free for evaluating the role of soy constituents/metabolites on key cancer related processes.
Examining urolithin production in humans as a function of ellagic acid intake on activities and expression of cytochrome P450 and phase II enzymes in human buccal cells and esophageal tissue.
Evaluating the role of dietary animal fat on the population of sulfur-reducing bacteria and their production of genotoxic metabolic products such as hydrogen sulfide.
For more information about this program announcement visit the webpage at http://grants.nih.gov/grants/guide/pa-files/PAR-10-208.html and/or contact Cindy Davis, Ph.D. at davisci@mail.nih.gov.