Last Updated: 11/9/12
A Conversation with
Lori Minasian, M.D., FACP
Chief of the Community Oncology and Prevention Trials Research Group, Division of Cancer Prevention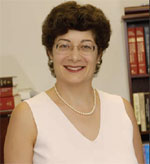 You are chief of the Community Oncology and Prevention Trials Research Group (COPTRG) which manages the Community Clinical Oncology Program (CCOP) at NCI. Can you tell us a little about the CCOP program?
The CCOP program supports a network of community physicians to participate in NCI sponsored clinical trials. These physician groups participate in the NCI Cooperative Group treatment trials and also the cancer prevention and control clinical trials. Through the CCOP program, the Cooperative Groups and certain Cancer Centers are funded to design and develop cancer prevention and control clinical trials.
How much CAM research has been done in the CCOPs?
Over the past several years, CAM trials have accounted for one-fourth to one-third of the symptom management trials funded through the CCOP program. In addition, there have been three funded cancer CAM prevention trials. One example is the SELECT (selenium and vitamin E cancer prevention trial) trial which has received some of its funding from the National Center of Complementary and Alternative Medicine.
Can you give examples of the types of CAM therapies that have been investigated in the CCOPS?
Various types of CAM therapies have been investigated by the CCOPs. The therapies studied can be categorized into four types of CAM: alternative medical systems, mind-body therapies, nutritional therapeutics, and complex natural products. Two examples of modalities from alternative medical systems are acupuncture and homeopathy. Mind-body interventions that have been studied include yoga and mindfulness relaxation. Coenzyme Q10, alpha-lipoic acid, and soy protein are examples of nutritional therapeutics that have been investigated in the CCOPs. In the category of complex natural products, examples of therapies studied include ginger, ginseng, and valerian.
Are there particular issues that are unique to the CAM research work done in the CCOPs?
There are several issues, most of which have been described in detail in the Journal of Clinical Oncology* article that several of us here at NCI wrote entitled "Research-design issues in cancer-symptom-management trials using complementary and alternative medicine: lessons from the NCI Community Clinical Oncology Program Experience." There are several methodological issues in terms of the study design, identifying appropriate formulations of the agent and the placebo, as well as the specifics regarding quality control. There are also unique challenges in doing research with interventions that require expertise that may not be available in a conventional medical practice setting, such as acupuncture. The model for the conduct of these trials is in the practice setting of oncologists (academic and community), such that if the intervention is an oral agent that can be delivered in pill or extract formulation, the trial runs like a standard drug trial. If the intervention is a mind-body or behavioral intervention which requires substantial effort for its delivery or requires expertise outside the oncology nursing expertise, then it becomes more difficult to conduct the study. There may be difficulty with accrual, how to ensure quality control of both the intervention itself and the delivery of the intervention, and acceptance of the intervention by the CCOP physicians and nurses.
*Buchanan DR, White JD, O'Mara AM, Kelaghan JW, Smith WB, Minasian LM. Research-design issues in cancer-symptom-management trials using complementary and alternative medicine: lessons from the National Cancer Institute Community Clinical Oncology Program experience. Journal of Clinical Oncology, September 20, 2005: 23(27): 6682-6689.
With this flat NCI budget, do you envision that CAM research will be sustainable?
Over the last several years, we have consistently seen strong interest in the study of CAM from CCOP investigators, so I would expect that interest in the future would be sustained. Also, our program, which closely collaborates with OCCAM, is committed to work to try to meet the needs of investigators by supporting this kind of research. Of course with an ever tightening budget, the funding of projects is dependent on several factors which include investigators' interests, quality of the proposals, as well as feasibility and cost of the projects.
Can you give an example of a CAM clinical trial that has been particularly successful or has made a difference at the patient level?
Unfortunately, most of the CAM symptom management clinical trials have been negative. In terms of impact level, the black cohosh study might be the most significant. Black cohosh is an herbal agent purported to be a non-hormonal way to reduce hot flashes. A randomized controlled black cohosh study run through the CCOP network had negative results, thereby allowing physicians to tell their patients that it does not work.
Related reading on CAM research and cooperative groups
O'Mara A. Complementary and alternative medicine research and cooperative groups: can it happen?
Journal of Pediatric Oncology Nursing, Sep-Oct 2006; 23(5): 258-60.