Last Updated: 11/9/12
Discussing Possible Next Steps for Research on the Use of Mixed Bacterial Vaccines as Cancer Therapy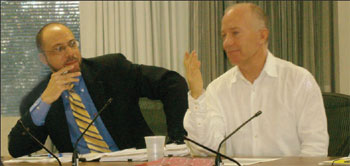 On November 17, 2006, the Office of Cancer Complementary and Alternative Medicine (OCCAM) hosted a half-day meeting to which staff members from the National Cancer Institute (NCI), others from the National Institutes of Health (NIH), as well as academia were invited to review and discuss information about the historical and current use of mixed bacterial vaccines as cancer therapy. The primary goal of the meeting was to provide Dr. Hal Gunn, CEO of Canada's Centre for Integrated Healing, with feedback regarding the strengths and weaknesses of his theory on the anticancer effects of these vaccines and suggest and examine potential next steps in research on this topic.
Presenters included Dr. Gunn, Dr. Jerry Calver, president of Calver Biologics Consulting, Inc., and Dr. Jeffrey White, director of OCCAM. Dr. Gunn presented his multifaceted theory on acute and chronic infections and their relation to the development and clinical course of cancer in addition to bacteria's preferential selection of certain tissue types. He also presented the clinical data from cancer patients whom he treated with Mixed Respiratory Vaccine (MRV) and Polyvaccinum Forte (PVF). Dr. Calver provided context to the meeting by explaining the process of developing, producing, and standardizing bacterial vaccines in Canada. Dr. White discussed OCCAM's prior review of retrospective outcome data of patients treated with mixed bacterial vaccines at the Centre for Integrated Healing.
The discussion following the presentations examined the risks of beginning prospective clinical research following retrospective studies, the ethics of moving forward with this preliminary research, and suggested strategies for conducting preclinical and clinical research. Meeting participants exchanged potential mechanistic theories related to mixed bacterial vaccine use in treating cancer and discussed ways to further this research.
Participants suggested to Dr. Gunn reasonable next steps for his research which included 1) partnering with a statistician to strengthen statistical findings from his retrospective data, and 2) conducting preliminary research using animal models to better understand the mechanisms of action, safety and tolerability, dose ranging, immunogenicity, as well as provide a test for Dr. Gunn's theory of tissue specificity of the anticancer effect of bacterial vaccines.
This meeting was planned as a result of an ongoing dialogue between Dr. Gunn and OCCAM, communication which started with Dr. Gunn's submission in 2002 to the NCI's Best Case Series (BCS) Program. The BCS Program was developed to obtain and review sufficient case-related information to determine if NCI-initiated research on a specific intervention is warranted and to learn more about novel and alternative treatments for cancer that are being used clinically. As a result of the review of Dr. Gunn's best cases, he was asked to compile survival data of all the Stage IIIb and IV lung cancer patients treated in his clinic over a period of several years. In 2005, Dr. Gunn presented the new data, but the vaccine he had been using (MRV) was no longer being manufactured. Consequently, no prospective research could be considered by NCI. Since that time, Dr. Gunn gained some experience with a different vaccine (PVF) and refined his theory, including the proposal of new combinations of bacterial vaccines.
"Dr. Gunn has gone above and beyond in his efforts to carefully analyze his clinical experience with this vaccine approach," said Dr. White. "He has also invested a lot of time and effort in learning about much of the research that addresses the associations between inflammation and cancer. This meeting is the first of its type that we have sponsored, and it is one of a series of efforts to build more bridges between CAM practitioners and the cancer researcher community. I hope that this opportunity to interact with experts in cancer research, immunology, and clinical therapeutics development will assist Dr. Gunn in moving forward with his plans for prospective research of this approach."
Dr. Gunn agreed that the experience with the NCI has been positive one. "I am very grateful to Dr. Jeff White and the OCCAM team for their support of this promising novel approach to cancer treatment," said Gunn.
For more information on the NCI BCS Program, please visit Best Case Series Program.
Contact Information
Office of Cancer Complementary and Alternative Medicine
6116 Executive Boulevard, Suite 609
Bethesda, Maryland 20892
E-mail: ncioccam-r@mail.nih.gov
http://cancer.gov/