Last Updated: 1/20/12
Research Highlights
Vitamin E Supplements Tied to Increased Risk of Prostate Cancer
Reprinted from the NCI Cancer Bulletin, vol 8/ no. 20, October 18, 2011
http://www.cancer.gov/ncicancerbulletin/101811/page4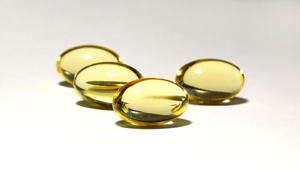 Men in a large prostate cancer prevention trial who took vitamin E supplements had a higher risk of developing the disease than men who took a placebo, according to extended follow-up of trial participants. Dr. Eric Klein of the Cleveland Clinic and his colleagues reported the finding October 12 in JAMA.
The results are from the Selenium and Vitamin E Cancer Prevention Trial (SELECT), which included more than 35,000 relatively healthy men at average risk for prostate cancer. The trial was stopped early in 2008, when a planned interim analysis indicated that vitamin E and selenium—whether alone or in combination—were unlikely to prevent prostate cancer.
At the time, participants were told to stop taking the supplements, and researchers continued to follow the men. The interim analysis also suggested that vitamin E might be associated with an increased risk of prostate cancer, though the result was not statistically significant at the time.
But with additional follow-up, the researchers detected a 17 percent increased risk of prostate cancer among men who took 400 international units of vitamin E per day (IU/d) compared with men who took a placebo, a difference that was statistically significant.
The Evidence on Vitamin E
In reporting their results, the researchers noted that, by and large, vitamin E has failed to show a benefit for preventing a number of diseases. "The totality of the evidence shows that vitamin E does not prevent other diseases, and we now have evidence that it may increase the risk of prostate cancer," said Dr. Klein.
Consumers need to be skeptical of health claims for over-the-counter products when strong evidence of a benefit demonstrated by clinical trials is lacking, the study authors stressed.
"Studies like SELECT make us take a step back and realize that any pharmaceutical agent we give has the potential for benefit and, as remote as it may be, also the potential for harm," said co-author Dr. J. Michael Gaziano of Brigham and Women's Hospital.
"That's why we engage in these large-scale randomized studies, especially for agents that are in widespread use," he added.
More than half of all men over age 60 in the United States are taking supplements containing vitamin E, and 23 percent are taking the dose used in SELECT, the study authors noted. Therefore, the finding of an increased risk of prostate cancer has "substantial implications."
The increased risk of prostate cancer emerged only after the men had stopped taking the supplements. "These agents seem to have longer-lasting effects," said Dr. Klein, noting that researchers who design clinical trials need to consider this possibility.
"This study is yet another cautionary tale about the potential risks of high-dose nutritional supplements," said Dr. JoAnn Manson of Harvard Medical School, who was not involved in the research. "We've seen this before, and it shows why it is so important to have these randomized trials."
In the early 1980s, she noted, beta-carotene was widely regarded as "a magic bullet for good health" until clinical trials showed that it was harmful to those at elevated risk for lung cancer, particularly smokers.
Another large randomized trial, the Physicians Health Study II, linked vitamin E to an increased risk of bleeding-related strokes.
Although deficiencies in certain nutrients can cause health problems, high doses of supplements may have health risks that outweigh the benefits, noted Dr. Manson, who is leading a large randomized trial of vitamin D and omega-3 fatty acids.
"With many nutrients, there is an optimal range of intake and blood levels, and more is not necessarily better," she added.
Most Prostate Cancers Found Early
More than 400 sites in the United States, Canada, and Puerto Rico participated in SELECT, which was coordinated by SWOG, a federally funded cancer research cooperative group. Doctors monitored the participants according to contemporary community standards of screening and biopsy. This ensured that, as in general practice, some men had PSA tests and others did not.
During the 7 years of the trial (5.5 years of taking supplements and 1.5 years of not taking them), doctors diagnosed 65 cases of prostate cancer for every 1,000 men in the placebo group. In comparison, doctors diagnosed 76 cases for every 1,000 men in the vitamin E-only group.
Most of the detected cancers were found early, and therefore "the risk of a man dying from the disease is not very great," said co-author Dr. Ian Thompson of the University of Texas Health Science Center at San Antonio.
He pointed out, however, that most men diagnosed with prostate cancer in the United States end up being treated with surgery or radiation, which can impair a man's sexual and urinary functions.
"If a man is taking vitamin E, he should either stop taking it or talk to his doctor about a reason he should take it," Dr. Thompson said. "And I can't think of a reason he should take it."
It is not clear why SELECT showed an increased risk for prostate cancer when earlier studies that led to the randomized trial showed that vitamin E protected against the disease. The study populations were different, however, and the original results may have been chance findings, the researchers said.
In fact, the prospective randomized trial, the gold standard in medical evidence, was launched precisely because the earlier studies were not definitive and needed to be confirmed.
The SELECT investigators have biological samples from the participants, and they intend to explore questions raised by the trial. For instance, men who took both supplements did not have an increased cancer risk, so there may have been an interaction between selenium and vitamin E.
The current results are an example of "rigorous scientific exploration," noted Dr. Howard Parnes of NCI's Division of Cancer Prevention, another co-author. "The idea of science is to put your observations to the test and see if they are correct," he said. "You often learn the most from the studies that overturn conventional wisdom."
Soy isoflavones may help improve radiation therapy used for lung cancer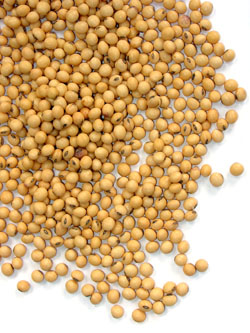 Lung cancer is the leading cause of cancer deaths in the United States. The majority of lung cancers are non-small cell lung carcinomas (NSCLC) and patients with NSCLC commonly receive chemotherapy in combination with radiation treatment. However, the radiation can damage surrounding healthy lung tissue and can result in severe lung damage leading to breathing problems and a decreased quality of life for the patient. Research studies have suggested that soy isoflavones (the active components in soy) may help to increase the effectiveness of radiation therapy and reduce some of the side effects. In a recently published, NCI-funded study* , Dr. Gilda Hillman and her colleagues in the Department of Radiation Oncology, Wayne State University School of Medicine, investigated the effects of soy isoflavones on radiation therapy in a mouse model of lung cancer.
In this experiment, mice were injected with lung cancer cells. Then, each mouse was assigned into one of four groups: a control group (no treatment), radiation only, daily soy isoflavone supplement, or both radiation treatment and the soy supplement. At the end of the experiment, the mice's lungs were examined.
The mice that received combination radiation treatment and soy supplements exhibited much less radiation-induced damage to healthy lung tissue compared to mice that received only radiation therapy. In addition, there was more damage to the lung tumors in mice that received combination treatment than in mice who received only radiation, soy, or no treatment at all. Previous work by Dr. Hillman's team has also shown that the isoflavone genistein is able to enhance the cancer-killing effect of radiation therapy in animals with prostate and kidney tumors.
To read more about this research finding, go to http://www.ncbi.nlm.nih.gov/pubmed/22079530
Read all about it! CAM research highlighted at NCI-designated Cancer Centers
The NCI Office of Media Relations works tirelessly to keep track of the multiple NCI-designated Cancer Centers, academic centers, grantees, and principal investigators that are researching NCI-supported science around the United States. Stories and press releases come out daily describing exciting advancements in cancer treatment and prevention, and NCI strives to provide this information to the public as quickly and accurately as possible.
In recent months, several scientific findings have been published relating to complementary and alternative medicine (CAM). Cancer CAM related stories from the Office of Media Relations are organized on the OCCAM website in the NCI CAM news section (http://cam.cancer.gov/news_and_events/news_stories.htm). All of the NCI Cancer Center News articles are available on the Media Relations News Center website (http://www.cancer.gov/newscenter).
Recent highlights of cancer CAM research include:
University of Michigan Study Finds Ginger Root Supplement Reduced Colon Inflammation Markers. Ginger supplements have been shown to reduce markers of colon inflammation in a select group of patients, suggesting that the supplement may have potential as a colon cancer preventative agent, according to a study performed at the University of Michigan Medical School.
(http://www.cancer.gov/newscenter/pressreleases/2011/MichiganGingerRootStudy)
NCI Cancer Center News, October 12, 2011
UCLA study finds primary component of turmeric kicks off cancer-killing mechanisms in human saliva. Curcumin, a component of the spice turmeric, has been found to suppress a cell signaling pathway that drives the growth of head and neck cancer, according to a study performed at the UCLA Jonsson Comprehensive Cancer Center.
(http://www.cancer.gov/newscenter/pressreleases/2011/UCLAStudyTurmeric)
NCI Cancer Center News, September 14, 2011
Mayo Clinic study finds flaxseed no help for hot flashes during breast cancer or menopause. A randomized, placebo-controlled study of 188 women in 2009 found no statistically significant difference in hot flashes between woman taking flaxseed and those taking a placebo. Previous research in 2007 suggested that consuming 40 grams of crushed flaxseed daily might help manage hot flashes.
(http://www.cancer.gov/newscenter/pressreleases/2011/MayoClinicFlaxseed)
NCI Cancer Center News, September 9, 2011