Last Updated: 01/22/13
A Conversation With
Dr. Nancy Colburn, PhD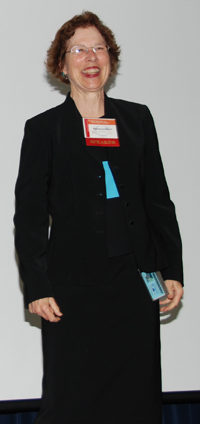 Chief, Laboratory of Cancer Prevention Center for Cancer Research
Can you talk a bit about the Laboratory of Cancer Prevention and your role as Chief?
The Laboratory of Cancer Prevention (LCP) was established in 2003 by then Center for Cancer Research (CCR) Director Carl Barrett. The impetus was to formalize a very active interest in cancer prevention that had emerged in the Cancer Prevention Faculty since 2000 as well as to accommodate unaffiliated cancer biology colleagues. Early LCP studies investigated selenoproteins and how selenium may work to prevent cancer. The lab eventually started looking at dietary interventions to prevent cancer in humans, and we are interested in discovering molecular events that drive carcinogenesis and might be targeted for cancer prevention. Since 2005 the LCP has been joined by additional distinguished scientists, namely Bill Farrar, Ph.D., who did seminal research with cancer genes and cancer stem cells; Jonathan Keller, Ph.D., who investigates normal and cancer hematopoietic stem cells; Peter Johnson, Ph.D., who provides novel mechanistic insights into cancer genes and related proteins; and David Salomon, Ph.D., who investigates targeted approaches to treating breast cancer, particularly breast cancer stem cells.
My role as Chief of the LCP has been to stimulate and inspire Principal Investigators (PIs) and fellows alike to conduct experiments that are rigorous, innovative, and significant in advancing basic and translational cancer research. Several of the PIs have extended their basic research to make advances in translational research. Our lab has partnered with the NCI Division of Cancer Prevention (DCP), the NIH Office of Dietary Supplements (ODS), and the NCI Office of Cancer Complementary and Alternative Medicine (OCCAM) to collaborate on dietary interventions to prevent cancer in mice and humans, or to target cancer stem cells.
My lab has pursued three CCR-funded projects:
The Role of AP-1 and Other Transcription Factors in Cancer Cause and Prevention (ZIA BC 010025)
The Role of Pdcd4 in Translation, Tumorigenesis and Tumor Progression (ZIA BC 010026)
Identification of Biomarkers for Response to Chemoprevention of Colon Cancer(ZIA BC 011159)
We have also proposed to the CCR to create a Translational Interface core facility that will allow intramural and extramural researchers, such as those funded by CCR, OCCAM, or DCP, to pursue pre-clinical translational research in cancer prevention. Several demonstration projects are ongoing with LCP Staff Scientist Matthew Young, Ph.D. as project manager partnering with the NCI Center for Advanced Preclinical Research (CAPR; http://ncifrederick.cancer.gov/atpi/ppt/capr) and the Laboratory Animal Sciences Program (LASP; http://ncifrederick.cancer.gov/rtp/lasp/intra/lasp.asp).
What types of dietary intervention studies have you overseen in your laboratory and can you share some of the results?
We have researched bean diet interventions modeled after the successful 4-year, 4000 participant Polyp Prevention Trial. Studies in the LCP lab have demonstrated that the diets enriched by beans (whole and fractionated) attenuated colon carcinogenesis in genetically obese mice. They also revealed potential serum biomarkers of efficacy. Short-term human feeding studies in collaboration with Drs. Lanza and Hartman (Antioxidant Status, Diet, and Early Pregnancy [5 M01 RR010732 15]) of Penn State University revealed several serum biomarkers of bean diet uptake/compliance as well as potential markers of efficacy. In addition to bean diets, we have used flavonol components of beans, particularly isorhemnitin, as well as resveratrol from grapes in intervention studies to prevent colon carcinogenesis in the AOM-DSS mouse model. These studies, some of them currently in progress, are revealing biomarkers that are serum proteins or metabolites. In addition, unlike the situation with small molecular targeted drugs, the target of dietary interventions is not always known. Although some of the targets of resveratrol are known, our studies have provided new knowledge of targets whose inhibited activity may be responsible for the chemopreventive activity of isorhemnitin and resveratrol.
In collaboration with Gary Stoner, now at the Medical College of Wisconsin, we published on biomarkers of berry interventions in colon cancer patients (Prevention of Esophageal Cancer with Berries [5R01CA103180-08]). We have extended this collaboration and are currently measuring the effects of berries on serum metabolites both in patients with Familial Adenomatous Polyposis (a condition where patients are genetically prone to developing colon polyps that may progress to carcinomas) and in mice. We are also now working with Giorgio Trinchieri, M.D., in the CCR Cancer and Inflammation Program to determine the effects of diet and Traditional Chinese Medicine (TCM) on the gut microbiome and colon cancer, as well as general health. Without the ongoing funding from the DCP as well as from the ODS and OCCAM we could not have contemplated embarking on these rewarding discoveries.
Please talk a little about what prompted your labs' recent interest in studying compounds from Traditional Chinese Medicine.
Over the years the LCP has had a number of postdoctoral fellows from China who understood TCM and introduced us to the concepts and practice. NCI scientists Zack Howard, Ph.D., and Joost J. Oppenheim, M.D. introduced us to their studies of TCM and to some of their collaborators at the Guang'anmen Hospital, China Academy of Chinese Medical Sciences in Beijing, China. We then met with Libin Jia of OCCAM and discussed projects of mutual interest. We are pleased that Weidong Li, from Guang'anmen Hospital, has joined us and is finding significant chemopreventive activity of TCM in the colon cancer models that we use, including using berberine (an isoquinoline alkaloid isolated from plants) which possesses anti-tumor, as well as anti-inflammatory and anti-diabetic properties.
We are currently setting up a Cooperative Research and Development Agreement (CRADA) with Guang'anmen Hospital, China Academy of Chinese Medical Sciences, Beijing and the Center for Advanced Pre-clinical Research at NCI to study TCM in a pre-clinical mouse model of lung cancer.
Given your dedicated career to NCI and your imminent retirement, as you look back on your work, can you reflect on some of the changes in research of dietary interventions for cancer prevention, and how the field has grown?
I remember early in my career in 1979-83 when I served on the NIH Chemical Pathology (Carcinogenesis) Study Section. I worked reviewing grants and performing site visits to researchers investigating food factors for their role in causing or preventing cancer. There were a number of international conferences on food factors and cancer in the 1980s and 1990s. It was clear then that the major causes of cancer were all kinds of environmental exposures including cigarette smoke, water contaminants, hormones, and dietary factors. The quality of the early dietary research was uneven and in some quarters acquired a reputation for not being rigorous science. Of course there were many challenges to working with the mixtures found in foods. Sometimes, as with other natural products, the chemopreventive activity of foods was lost by purification to single compounds. Over time, the field attracted outstanding molecular biologists and animal researchers who were fascinated by the lack of toxicity and apparent efficacy of dietary interventions. In most cases, a chemopreventive food works by hitting a number of targets but none of them too hard. The field of dietary chemoprevention is now well-regarded and offers much opportunity to investigators whether early in their career or seasoned. We can envision a future in which cancer, like cardiovascular disease, can be prevented altogether in many people and in others can be kept at bay for decades with appropriate combinations of low-dose non-toxic drugs and diet.
As a mentor, do you have words of advice for young investigators starting in the field of complementary and alternative medicine research?
Get rigorous training in how to experimentally address the provocative questions in cancer research. Put the scientific method to work beginning with articulating the question clearly and designing experiments to address the question. Learn how to assess your own work as if you were a wise reviewer of your manuscript or proposal. Make sure to reach out and connect to those who have the most to offer you either as consultants or collaborators. It takes the right funding and the right people to make your research successful. Learning from one another is key.
So far all of this advice is similar whether the young investigator is starting in basic research or in a translational research area such as complementary and alternative medicine (CAM). Additional advice would be to read the best journals that publish CAM research and go to the relevant meetings so that you can identify where the opportunities are and which opportunities you will pursue. This approach will prepare you to respond to Requests for Proposals when they are issued. When submitting a grant, the Chemotherapy and Dietary Prevention study section is a good one to suggest. You can be ahead of the pack by already having the preliminary data or analysis needed to write your proposal. Stay focused on the question; use clear thinking and good judgment and don't get distracted by what's trendy.