Last Updated: 11/9/12
News from the Field
OCCAM to Reissue Program Announcement but Adds New Priorities
Since it was first issued in 2001, the program announcement (PA) series "Developmental Projects in Complementary Approaches to Cancer Care" has been one of the most productive mechanisms for attracting new CAM grants to NCI. The series has included PAR-02-040, PA-04-053, and the soon to expire PA-06-400. To replace PA-06-400, OCCAM has revised this PA, which has been approved for reissuance and is expected to be published in May 2009.
This new PA will continue to solicit grant applications that encourage and support the development of basic and clinical complementary cancer research projects (prevention, therapeutic, and palliative) through the exploratory/developmental research grant (R21) award mechanism. For the first time in the PA series, the announcement will also foster innovative research through two new additions—the small grant (R03) mechanism and requests for submissions that focus on OCCAM's new cancer CAM research priority areas.
Results of CAM Practitioners
Survey Published in JSIO
The results of a survey of CAM practitioners and their interests and concerns regarding the care of cancer patients was published in the Winter 2009, Volume 7, Number 1 edition of the Journal of the Society of Integrative Oncology. A similar survey of cancer researchers regarding CAM was published last year in the Winter 2008 edition. Selected results from both surveys were presented at the 2nd International Conference of the Society for Integrative Oncology in October 2005.
The addition of the small grant (R03) mechanism allows investigators the opportunity to collect preliminary data on CAM that can provide the basis for future more extensive research. It also encourages innovative applications of CAM approaches and collaborative research for small research projects as well as between national and international studies for comparative or validation trials. These collaborations are particularly relevant to CAM practices that have been identified through the NCI Best Case Series Program and warrant NCI-initiated research but have not ascertained enough data for a larger project. Examples of such therapeutic regimens include the treatment approach of the P. Banerji Homeopathic Research Foundation, insulin potentiation therapy, and macrobiotic lifestyle as per the Kushi Institute. Using the R03 mechanism, these approaches and others can be explored, creating a channel for potential promising CAM interventions to be discovered.
The addition of OCCAM's research priority areas to this announcement will encourage rigorous research in these areas that are not currently represented in the scientific knowledge:
Novel therapeutics in the pharmacopoeia of traditional medical systems, as defined by the World Health Organization
Complementary medicine approaches to improve the therapeutic ratio of standard and investigational anti-cancer therapies
Research on lifestyle modifications (e.g. diet, exercise, and mind-body approaches) for their impact on cancer outcomes (e.g. response to conventional cancer therapy and survival)
Additional information on this PA will be available upon its release at http://grants.nih.gov/grants/guide/pa-files. For extramural research questions, please contact Research Development and Support Program Director Dr. Isis Mikhail at mikhaili@mail.nih.gov.
NCI's Third Annual CAM Report Now Available
NCI has recently published its third annual report on activities relating to cancer CAM. The report, NCI's CAM Annual Report: Fiscal Year 2007, led by the efforts of OCCAM, covers cancer CAM communications, training, and research projects sponsored by NCI between October 1, 2006 and September 30, 2007. The primary focus of the report is to present research highlights from NCI's comprehensive grant portfolio.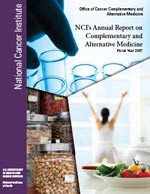 To provide an overall picture of NCI's cancer CAM portfolio, the projects selected for the report represent a variety of NCI Divisions, grant mechanisms, research types, CAM therapies, research institutions, and types of cancer. Examples of project summaries featured in the report include:
Fish Oil Studied for Possible Prevention and Treatment of Pancreatic Cancer
Green Tea Extract and Erlotinib Explored for Prevention of Head and Neck Cancer
Dragon Boat Racing May Help Cancer Survivors Thrive
In addition to research project summaries, the report provides information about other NCI CAM activities from FY 2007 including meetings, conferences, and workshops; cancer CAM communications products; and a selected list of peer-reviewed journal articles, which published the results of NCI grant awards. Unique to this year's report is the description of NCI's CAM portfolio analysis process.
NCI's CAM Annual Report for fiscal year 2007 is available on the OCCAM Web site at http://cam.cancer.gov/docs/annual_report/CAMAnnualReportFY2007.pdf.
Dietary Supplement Studies Listed as One of NIH's 2008 Clinical Breakthroughs
NIH highlighted accomplishments made in 2008 by NIH-supported scientists in NIH Research Matters. The following dietary supplement studies were chosen as clinical breakthroughs in prevention, diagnosis, and treatment of human disease. This article is re-printed from the NIH Research Matters Website
http://www.nih.gov/news/research_matters/december2008/12152008dietsupl_prostate.htm
Dietary Supplements Fail to Prevent Prostate Cancer
Two large-scale clinical trials found that regular intake of vitamin E, vitamin C or selenium does not reduce the risk of prostate cancer or other cancers in older men, as some previous studies had suggested.
Prostate cancer is the second-leading cause of cancer death in American men. It's expected to kill about 29,000 people nationwide in 2008, and about 186,000 new cases are predicted for this year. Over a decade ago, a couple of clinical studies found evidence that prostate cancer risk might be reduced by taking vitamin E or selenium supplements, but these older studies weren't specifically designed to answer questions about prostate cancer. Smaller studies have hinted that vitamin C might help to prevent different types of cancer, but earlier trials haven't looked at the effects that vitamin C alone might have on prostate cancer in men at usual risk for the disease.
The 2 new studies, funded in part by NIH's National Cancer Institute (NCI) and several other NIH components, were designed to look specifically at how prostate cancer and total cancer risk is affected by different dietary supplements. The results of both trials were published on December 9, 2008, in the online edition of the Journal of the American Medical Association.
The larger study—the Selenium and Vitamin E Cancer Prevention Trial (SELECT)—recruited more than 35,000 men, age 50 and older, who had no evidence of prostate cancer. Participants were randomly assigned to receive selenium, vitamin E, the 2 in combination or inactive placebo pills for comparison. Researchers originally intended to follow each participant for at least 7 years. But in October 2008, after an average follow-up of about 5.5 years, the participants were asked to stop taking their pills. That's because an independent monitoring committee found that the supplements seemed to offer no cancer-related benefits. In fact, preliminary analyses hinted at some possible harm.
Overall, the researchers reported no significant differences between the 4 groups in the rates of prostate cancer or other types of cancer. The men taking vitamin E alone had a slightly raised prostate cancer risk, and those taking selenium trended toward a higher risk of type 2 diabetes. In both cases, though, the differences weren't large enough to prove they weren't due to chance. Although the study participants are no longer taking their assigned treatments, the researchers plan to continue monitoring their health for at least 3 more years to detect any long-term effects of supplement use.
The second trial, Physicians' Health Study II, looked at how the long-term use of vitamin E or C supplements affect the risk of prostate or other cancers. More than 14,000 male doctors, age 50 or older, were randomly assigned to take either vitamin E, vitamin C, both vitamins, or a placebo. After an average follow-up of about 8 years, the scientists found that neither vitamin—alone or in combination—significantly reduced the risk of prostate or other cancers compared to the placebo group. No significant negative effects were associated with vitamin use.
The results of these studies highlight the fact that, while dietary supplements can often seem beneficial in small observational studies, large, carefully controlled trials are needed to test whether they really live up to their hoped-for benefits.
Related Stories: