Last Updated: 09/04/19
Strategic Workshop on Rigor and Reproducibility: Precision Fecal Microbiota Transplant and Microbiome Cancer Therapeutics
Event sponsored by the Division of Cancer Treatment and Diagnosis and Office of Cancer Complementary and Alternative Medicine
Date: Thursday, September 5, 2019, 8:00 am - 4:00 pm
Location: NCI Shady Grove Campus, Seminar 408/410
WebEx Registration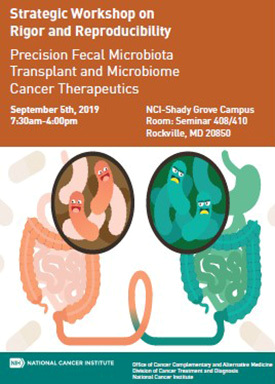 Emerging preclinical, human cohort and clinical researches suggest that microbiota plays important modulatory roles effecting cancer therapeutic outcome. Many studies are searching correlative microbiome species as potential predictive or prognostic biomarkers for cancer therapy. Microbiome-based cancer treatment strategies or interventions are active developing fields, such as, pre/probiotics and fecal microbiota transplant (FMT).
Two groups published results in early 2018 showing that specific gut microbiota species were associated with positive PDL-1 immunotherapy responses in metastatic melanoma cancer patients (1, 2). However, they are different species even though they both enhanced the immunotherapy response in their respective mice models. FMT, an investigational agent under FDA, has been shown to be effective in treating many patients with antibiotic-resistant Clostridium difficile infections. At the 2019 AACR meeting, two groups showed similar preliminary clinical trial early results indicating that FMT may improve immunotherapy response to some melanoma patients who initially did not respond to immunotherapy drugs (NCT03341143, NCT03353402). However, we know very little about the mechanisms and the long-term safety.
This is the first NCI meeting focusing on rigor and reproducibility issues of FMT and microbiome-based cancer therapeutics. This timely meeting brings together scientists, physician scientists and FDA regulatory staffs in the fields of FMT, pre/probiotics, nutrition, microbiome, synthetic biology, biomarker, computation, immunology, gastroenterology, oncology, and infection. The objectives are: (1) to assess the current state of clinical research and clinical trial of FMT and microbiome-based cancer therapeutics, (2) to discuss the knowledge gaps and future opportunities, and (3) to provide feedback to NCI & NIH regarding future priority areas in enhancing precision and mechanism-based rigor and reproducibility of defined microbiome-based therapeutic clinical research for cancer and other diseases.
The workshop agenda includes sessions on mechanisms, clinical efficacy and safety of FMT and microbiome-based cancer therapy; microbiome measurements, biomarkers and model development, computation tools, intervention and clinical research standardization, and FDA regulatory issues.
It is our expectation that the outcome of this workshop will assist grant applicants and researchers in enhancing clinical research reproducibility, fostering data sharing and collaboration.
Gopalakrishnan, V. et al. Science 359, 97-103 (2018).
Matson, V. et al. Science 359, 104-108 (2018).
The workshop room has limited seating. It will be broadcast live on WebEx.
Please pre-register with WebEx.
After your request has been approved, you'll receive instructions for joining the meeting through WebEx.
Event Contact Information
Dan Xi, DCTD, Chair.
Individuals with disabilities who need reasonable accommodation to participate in this event should contact Dan Xi (xida@mail.nih.gov or 240-276-6143), and/or the Federal Relay Service (1-800-877-8339) 3 days in advance of the event date to discuss accommodation needs.